Battlegrounds Mobile India recently marked the end of its three-month probationary phase following its unban, and the game's creators have introduced a plethora of fresh content to commemorate this milestone, such as the BGMI Surf Crate. An announcement on the game's official Instagram account on September 2, 2023, unveiled an exciting new challenge for players centered around accessing this item.
The BGMI Surf Crate will remain accessible for the next 15 days, piquing the interest of fans eagerly anticipating its rewards, cost, and other specifics.
Before going any further, you must also know what ranks in BGMI. This can be one of your references for maximizing more impressive gameplay, and you can target it.
Unveiling the BGMI Surf Crate: Acquisition, Pricing, and Rewards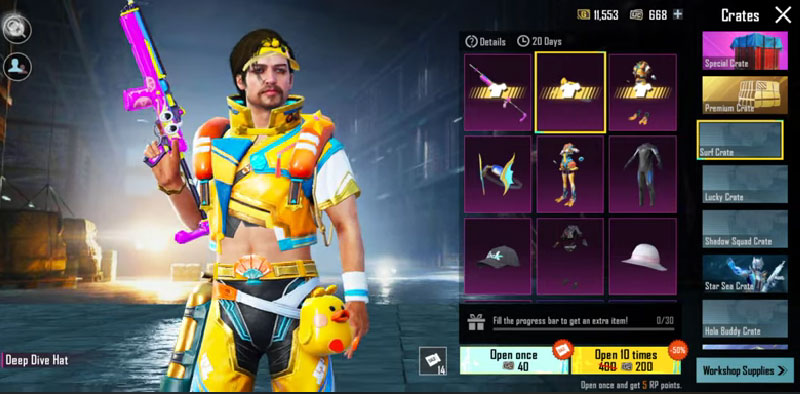 The BGMI Surf Crate is a treasure trove of enticing rewards that beckons players into Battlegrounds Mobile India. Silver fragments, fashionable attire, and various other valuable items lie within this digital treasure chest. This crate's highlights are exclusive items such as The Deep Dive Hat, Deep Dive Set, Summer Surf Cover, and Summer Surf Set.
Players must venture into the world of crate opening to partake in the excitement and claim these coveted prizes. The entry fee for this thrilling endeavor is 40 Unknown Cash (UC) for a single draw, or for those feeling particularly adventurous, 200 UC for ten draws bundled together in the Surf Crate.
Before you find out information about BGMI Surf Crate, you also need to know what can affect your game in BGMI, one of which is the BGMI Gyroscope Sensitivity that you can find out.
If you're ready to take the plunge and dive into the BGMI Surf Crate, follow these simple steps:
Launch the BGMI app and navigate to the upper right corner of the screen to find the menu.

Select "Crates" from the menu options.

Locate and tap on the enticing Surf Crate, which promises a world of possibilities.
Here, you'll be presented with two distinct drawing options. Opt for the "Open Once" choice if you wish to make a single draw, costing you 40 UC. Alternatively, you can go all-in with ten attractions at once, which comes at 200 UC.
To fund your crate-opening escapades, you'll need UC. Here's how to acquire UC in BGMI:
Tap on the '+' button in the screen's top right corner.

Choose the UC pack that suits your needs and preferences.

Select your preferred payment method to complete the transaction.
Once the payment goes through successfully, a message proclaiming "Payment Successful" will pop up, and the UC will be seamlessly added to your gaming account.
While indulging in purchasing and spending UC for weapon and character skins can be incredibly enticing, players must exercise caution. UC involves real money, and the allure of in-game acquisitions can be addictive.
Also, take a peek at some BGMI things that you can find out more about, such as BGMI Zone Rotation that you can use. You can follow this to maximize the game further.
Players, especially minors, must make such purchases under the watchful eye of their guardians, ensuring a balanced and responsible gaming experience.
Those are some things about Surf Crate in BGMI that you should know. We hope this article can be one of the most valuable references for further information.
You can also Top Up BGMI on UniPin right now. At UniPin, you will get a fun Top Up Gaming experience and attractive prizes and promos.