Best mobile games free download on iOs and Android enables you to enjoy gaming virtually anywhere. However, the challenge lies in discovering games devoid of advertisements or in-app purchases, a task that has recently become progressively more demanding.
If you're searching for cost-free mobile games without any advertisements on Android and iOS platforms, continue reading to explore our compilation of essential ad-free games available for free download. You will realize that these free games, devoid of ads, also offer considerable enjoyment and promising hours of entertainment.
20 Best Mobile Games Free Download on iOs and Android
We are well aware that in today's times, not all Android games claiming to be free remain so. However, a substantial number of these games can be enjoyed without spending money, provided you have a bit of patience. The main hindrance in most free-to-play games arises when players become impatient and seek to expedite their progress through in-app purchases. 
Nevertheless, if you're willing to wait out certain aspects of the game and persist in your play, you can navigate around these obstacles. The finest free Android games are presented below, curated to offer you a comfortable gaming experience without heavily relying on in-app purchases. Our intention is for you to relish these games to the fullest. This compilation adheres to a hall-of-fame format, implying that the selection will only change if a superior alternative emerges. Let's commence our exploration.
1. Asphalt 9: Legends
The Asphalt franchise boasts some of the best free and popular mobile racing games, with notable entries like Asphalt 8: Airborne and Asphalt Xtreme. However, the series welcomed its latest addition, Asphalt 9: Legends, in July 2018, marking its most recent release. This game offers various features, encompassing 50 different cars, many challenges, and abundant gameplay content. These offerings include online multiplayer competitions, engaging single-player experiences, and more.
The game employs an auto-go mechanism, relinquishing direct control over acceleration. While this implementation may be flawed, acclimating to it becomes second nature over time. The visuals are impressive, and the game incorporates social components, enhancing the interactive aspect. Operating on a freemium model, the competitive online segment may be influenced by in-app purchases. 
However, the single-player content upholds the classic appeal of arcade-style racing, providing an enjoyable experience. Additionally, investing extra time in grinding makes it possible to bypass in-app purchases, albeit through a somewhat laborious process. In mobile gaming, there are also other exceptional racing titles worth exploring.
2. PUBG Mobile
If you have a penchant for the competitive aspect of mobile gaming, PUBG presents itself as a superb option. This iconic battle royale entails parachuting onto an expansive map, procuring weaponry and protective gear, and engaging in combat. Emerging as the ultimate survivor, individually or as a team, designates the victor. Notably, the battleground's confines progressively contract, necessitating eventual confrontations with all participants.
Remarkably adapted from its PC origins to the mobile platform, PUBG boasts commendable controls. Routine tasks such as scavenging and accessing entrances can be automated, enabling you to concentrate on detecting adversaries and securing triumph over them. A thrilling and adrenaline-charged experience, PUBG proves immensely gratifying as you navigate your way to the concluding stages of the contest.
3. Dadish Series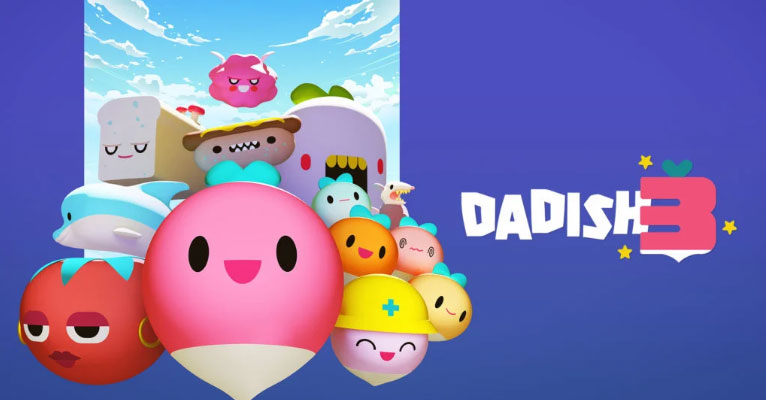 The Dadish games revolve around the escapades of a paternal radish. This radish, doubling as a father figure, faces the daunting task of locating his vanished offspring, thrusting himself into a grand expedition to reunite with them. As he progresses through each stage, he confronts dangerous spike traps, whirling blades, and formidable boss encounters.
These games offer exceptional platforming encounters characterized by a nostalgic aesthetic. While the levels undoubtedly present considerable challenges, the sense of accomplishment upon conquering them is immensely gratifying. Additionally, Dadish is brimming with comedic elements and all three installments in the series warrant exploration and firsthand experience.
4. Pokemon Go
In 2016, Pokemon Go emerged as the most prominent mobile game. Despite a gradual decline in popularity, the game remains a robust and cost-free choice. Notably, it experienced a resurgence during the COVID-19 pandemic. Gamers can capture Pokemon, engage in gym battles, and discover Pokestops while exploring the real world. Recent enhancements include legendary Pokemon, raid battles, trainer battles (with certain limitations), and additional features like trading Pokemon within the game.
The game's progression has extended far beyond the initial recollections of many. It will be recognized as one of the most remarkable and emblematic mobile games ever created when it concludes its active phase. It securely holds its place at the summit of the list of best VR games.
5. Free Fire
In 2016, Pokemon Go rose to prominence as a leading mobile game. Despite a gradual waning of its popularity, the game remains a strong and free-to-play option. Particularly noteworthy was its resurgence during the COVID-19 pandemic. Players can capture Pokemon, participate in gym battles, and come across Pokestops while exploring the world. Recent updates have brought legendary Pokemon, raid battles, trainer battles (with specific restrictions), and extra features like in-game Pokemon trading.
The game's evolution has far surpassed the initial memories of many. When it concludes its active phase, it will be acknowledged as one of the most remarkable and iconic mobile games ever conceived. It firmly maintains its position at the pinnacle of the list of Best Unblocked Mobile Games globally.
6. Adorable Home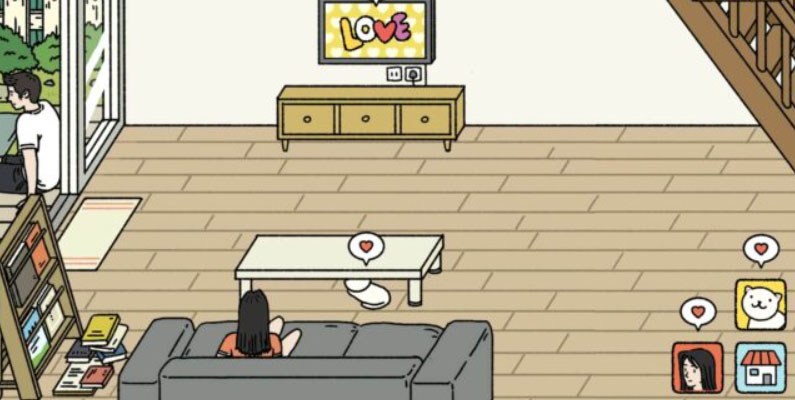 Adorable Home is one of the best mobile games, free enchanting and serene gaming experience that can be enjoyed at your leisure, wherever you are. In this delightful game, you can select your character and their partner, embarking on a creative journey to embellish your dream residence. Throughout the gameplay, you accumulate affection points through various engaging activities. For instance, you can enjoy mini-games designed to care for your feline companion. These affection points can then be utilized to acquire novel furnishings and decorations to enhance your living space.
The artistic design of Adorable Home exudes a captivating allure. Rather than a game demanding extensive time commitments, it offers a laid-back and leisurely ambiance, allowing you to periodically perfect your virtual abode. As you advance, you unlock additional rooms and accessories catering to the preferences of decorating enthusiasts. This game stands as a superb option for those who appreciate the art of interior design.
7. Mobile Legends
Mobile Legends: Bang Bang is a well-received internet game belonging to the Multiplayer Online Battle Arena (MOBA) category. It was crafted and released by Moonton, tailored explicitly for employment on handheld gadgets, including smartphones and tablets. Within Mobile Legends, players partake in 5 vs. 5 team confrontations within a digital arena. 
Every participant assumes the role of a distinct hero figure, each possessing unique skills to combat the rival team. This game's primary aim centers on destroying the adversary's pivotal base structure, known as the "Crystal" or "Nexus."
8. Genshin Impact
Unexpectedly, Genshin Impact comes at no cost. This remarkable RPG unfolds within a breathtaking best open-world gaming, boasting an abundance of material to engross you for extended periods. Whether you embark on exploratory journeys, relish the picturesque settings, or immerse yourself in its captivating storyline, engaging with intriguing personas and unearthing the mysteries of the Teyvat realm.
Genshin Impact delivers an exceptional combat system to relish, introducing an array of novel abilities to hone. Furthermore, the option to collaborate with friends seamlessly across various platforms enriches the experience, allowing collective efforts to combat adversaries and safeguard the realm. Genshin Impact presents an indelible venture, all accessible on your mobile device without charge.
9. Disney Mirrorverse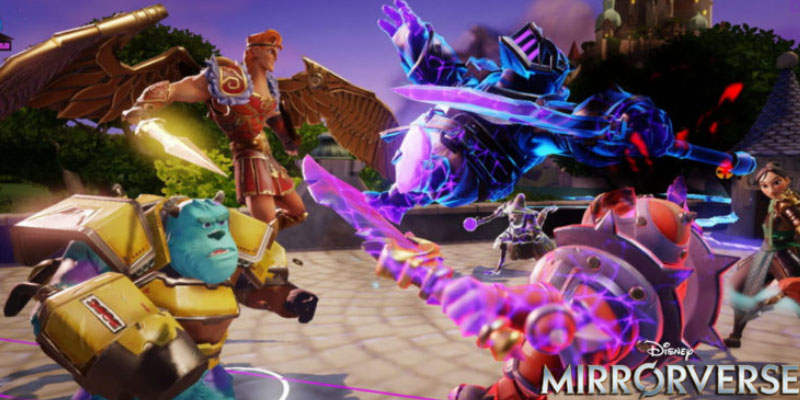 Disney Mirrorverse is a rather impressive mobile game, implementing action RPG elements in which you navigate the battleground to engage foes with your combat skills. Gamers gather a growing roster of Disney characters, create a team, and advance through the narrative. 
Alongside main quests, supplementary missions exist, online player versus player mode, and particular event tasks to provide ample engagement for players. While not devoid of shortcomings typical of any game, it is noteworthy that the game is consistently evolving and refining due to its ongoing development efforts.
10. Call of Duty: Mobile
Call of Duty: Mobile is one of this compilation's fresher entries. While our usual approach involves observing a game's evolution, this title's immense popularity and exceptional quality necessitated an immediate inclusion. Much like any installment of the Call of Duty series, the game offers traditional online first-person shooter (FPS) player-versus-player gameplay. 
However, it introduces a battle royale mode accommodating up to 100 players, akin to what's seen in PUBG Mobile and Fortnite. This makes the game unique, excelling as a commendable standard FPS, comparable to Critical Ops, and an impressive battle royale title like PUBG Mobile.
Monetary transactions within the game are primarily centered around cosmetic items, most of which can be earned as in-game rewards. The gameplay experience is highly satisfying, garnering considerable favor among players. Given its recent release, there might be a few glitches, but these are anticipated to be resolved with ongoing updates. If this game doesn't fully capture your interest, there are several other noteworthy FPS games worth exploring.
11. PewPew
Enjoy the thrill of multidirectional shoot-em-up action without spending a dime with PewPew, a fantastic alternative to Geometry Wars.
PewPew offers a simple graphical style, making it an ideal choice for those who love vibrant neon shapes set against a dark backdrop. With a high frame rate, the game boasts five distinct gameplay modes: Pandemonium, Dodge This, Assault, Chromatic Conflict, and Asteroids.
In Pandemonium mode, you'll encounter enemies that create chaos by exploding or wildly spinning upon defeat. Dodge This mode presents the challenge of gathering boxes while skillfully evading hostile forces. For fans of the classic Geometry Wars experience, Assault mode pits you against waves of adversaries.
Chromatic Conflict introduces a twist, requiring you to eliminate only enemies that match your ship's current color, demanding keen observation and patience. Lastly, Asteroids mode mirrors the gameplay of the familiar classic bearing the same name.
Beyond these engaging modes, PewPew provides an array of unlockable playable ships and the opportunity to climb leaderboards. Remarkably, this game is available for free, without any obligations attached.
12. Unciv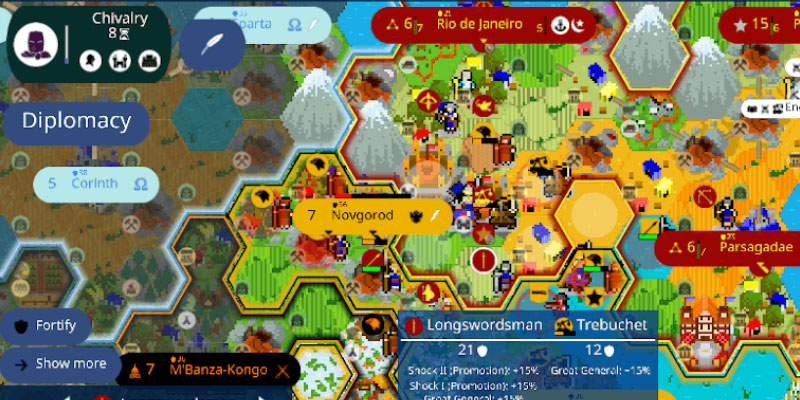 If you're a fan of strategic role-playing games with a Risk-style twist, then Unciv is tailor-made for you. This open-source game guarantees a perpetually free and ad-free experience, staying true to its commitment. It captures the essence of beloved strategy games from the 1990s, challenging you to construct your own civilization and assert dominance over rival factions.
With an impressive record of over a million downloads and an outstanding 4.7-star rating, Unciv has undoubtedly made its mark. This remarkable achievement is particularly notable given its status as a free-to-play game. Dedicated Unciv enthusiasts also collaborate on GitHub, diligently enhancing the game's compatibility with modern Android operating systems to ensure continued enjoyment.
13. Honkai: Star Rail
Honkai: Star Rail stands as a fresh gacha RPG entrant, unfolding its narrative in the expansive realm of space. Within this cosmic setting, you and a cast of diverse characters embark on interstellar journeys aboard the Astral Express. Your collective mission involves aiding denizens across various planets to resolve their pressing dilemmas. The game boasts an impeccable visual presentation accompanied by a captivating musical score. 
As for its gameplay, the combat system delivers an enjoyable experience, although some might find it a tad uncomplicated. The game's enduring appeal is noteworthy, offering the potential for months of engagement with the promise of ongoing content updates spanning years. Emanating a sense of inherent quality, the game exudes an aura of assured excellence. Launched in 2023, Honkai: Star Rail has been greeted with enthusiastic acclaim, solidifying its position as one of the foremost gacha games in the current gaming landscape.
14. Simon Tatham's Puzzles
This collection comprises 39 puzzle games (38 available on iOS) that are provided as open-source, devoid of ads, and completely free to enjoy. Delve into the puzzle descriptions for a more precise grasp of each game's mechanics.
Every puzzle presents a distinctive challenge, requiring a certain amount of time to unravel. For those seeking to stimulate their mind and pass the time, this game is worth a try.
15. Roblox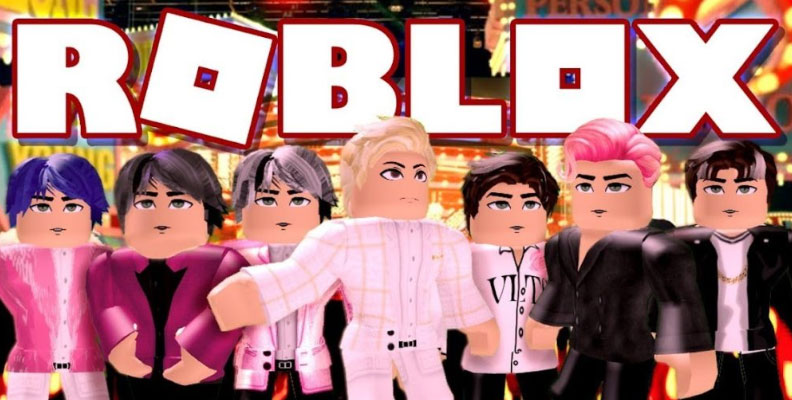 Roblox stands out as a highly renowned global game at present. Functioning as a sandbox game, it boasts extensive content for players to engage with. Despite its considerable longevity within mobile gaming, its continual influx of new activities sustains its relevance in the present time. Participants can partake in creations crafted by fellow players or embark on their own creative endeavors.
The mobile application integrates with other game versions across different platforms and features a chat capability. It's worth noting that the available downloadable content occasionally veers into NSFW territory. Hence it's advisable to closely supervise children if they can play. Additionally, other exceptional sandbox games exist for those seeking alternatives.
16. Tower of Fantasy
Tower of Fantasy stands as a mobile RPG imbued with gacha mechanics. Enthusiasts immerse themselves in an expansive open-world environment enriched with many quests and narrative undertakings to engage with. Moreover, a diverse array of characters is at your disposal for collection, each harboring their own personal histories to delve into. Subsequently, you can harness their abilities to defeat adversaries. While this forms the core cycle of gameplay, a spectrum of other activities exists.
The game vies for attention within the same realm as Genshin Impact, sharing certain resemblances with its counterpart. The facets of an open-world setting, the gacha component, and the spirit of exploration bear striking similarities. Hence if one finds enjoyment in a particular game, the likelihood of deriving satisfaction from the other is notably high. Although encountering some initial setbacks upon its launch, the most challenging phase has dissipated into the past. Evidently, it has evolved into a commendable gaming experience.
17. Legends of Runeterra
Legends of Runeterra, the freshest addition to this collection, introduces a card-based dueling experience reminiscent of Hearthstone, a similarly exceptional free-to-play title. Participants gather cards, construct decks, and engage in duels until a victor emerges. Players select a champion and shape their deck around it, a critical factor in molding their strategic approach. Much like Magic: The Gathering's Commander game mode, the parallels are pretty evident.
This release also marks Riot Games' most recent venture into mobile gaming, following their immense success with League of Legends. Their other mobile offerings include Teamfight Tactics, another commendable free-to-play endeavor, along with the upcoming mobile rendition of League of Legends. Naturally, the lineup features several other outstanding card-based dueling games.
18. Creatures Of The Deep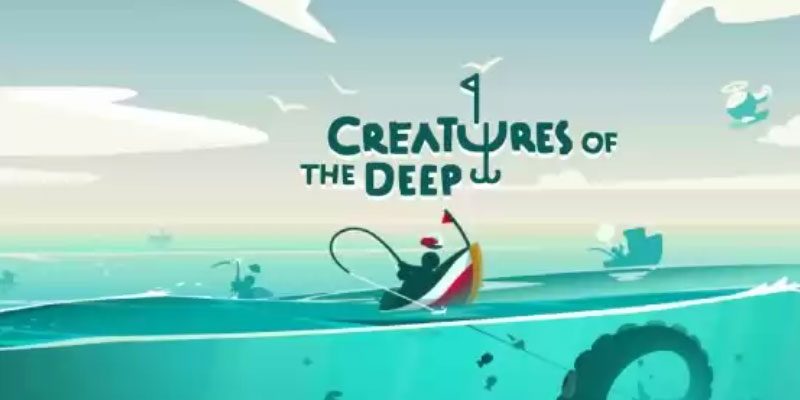 For those seeking a more laid-back gaming encounter, consider giving Creatures Of The Deep a try. This remarkable game revolves around the art of capturing the finest aquatic creatures. It offers the opportunity to venture into various marine landscapes and enjoy a leisurely fishing experience. Moreover, the game presents enigmatic challenges to unravel, involving tales of monstrous beings concealed in the profound expanses of the ocean.
The game boasts captivating artwork; every locale you explore exudes a splendid charm. Navigating the game's controls is a breeze, enabling you to swiftly immerse yourself in the gameplay. The key lies in mastering your timing. Creatures Of The Deep delivers a splendid journey bound to captivate you. Observing fellow players zipping around on their personal watercraft adds a layer of delight to the experience.
19. EA Sports games
EA dominates the market when it comes to sports video games. They stand alone as the sole developer who consistently releases annual editions for a wide range of sports, encompassing titles such as Madden NFL Overdrive, FIFA Soccer, NBA Live Mobile, and EA Sports UFC. What's common across these games are the fundamental elements they share. 
Players can engage in realistic sports simulations, with simulation mechanics embedded in each title. Visuals are typically of commendable quality, complemented by intuitive controls. Nonetheless, it's important to note that EA's sports games heavily incorporate free-to-play components. This factor frequently frustrates a significant portion of the player base, dampening the overall recommendation for EA's offerings.
Regrettably, EA holds a monopoly on producing games for a majority of sports, inevitably securing their premier status within the genre. While a handful of acceptable soccer and general sports alternatives are available, the options remain limited. Viable alternatives include noteworthy baseball, golf, football, and basketball games for those interested.
20. PBS KIDS Games
The process of getting games for children can be uncertain. While certain games are enjoyable and offer educational value, they might include advertisements or pop-ups that are not suitable for kids. You might also be concerned about a child amassing charges through in-app purchases.
However, you can put all these worries aside with PBS KIDS Games. PBS KIDS Games doesn't have any pop-ups or in-app purchases. 
Those are some of the best free mobile games you can learn more about. To maximize further, you can now use Top Up Mobile Gaming on UniPin. Because at UniPin, you will feel the sensation and experience of fun Top Up Gaming.