A Steam Gift Card is quite popular among PC video gamers. However, if you are still new to this multifunctional card, worry no more. This page will show you everything you need to know about what this card is and how you can use it to improve your experience in PC video gaming.
You can buy Steam Gift Card using UniPin here: buy Steam Gift Card/Steam Wallet.
Steam Gift Card: What Is It?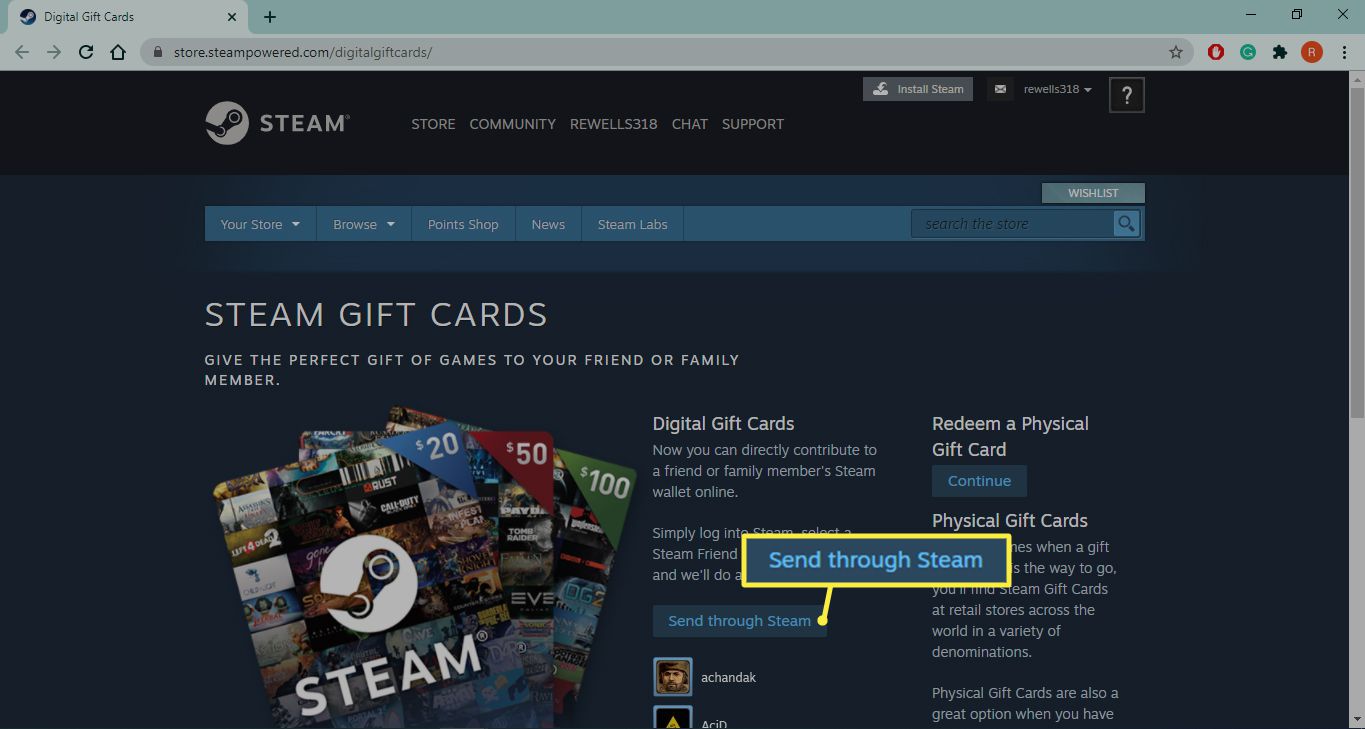 So, what is Steam Gift Card actually? Before going further with how you can get the card and use it for PC gaming, this will be better to understand what it is about. The card itself is developed by Steam. This is a digital distribution platform specially designed for PC gaming by Valve Corporation.
Generally speaking, Steam comes with a lot of interesting features to offer to PC gamers. These include automatic installation, voice chats, updating communities, updating video games, and more. Steam also doesn't only host thousands of games from major game developers but also indie game designers. Additionally, this digital platform allows you to access downloadable content, DLC, as well as "mods" or user-generated features.
Steam also serves as a cloud-based gaming library. It means that without much memory on your computer, you can still store a large game collection on the device. This digital Steam card will make it possible for you to utilize any computer to play games you download or purchase to your Steam account. All you need to do is just download Steam and then install it on your computer. Once you have completed the process, you can access the entire library of software, games, as well as forums.
How to Use the Card
Gift cards developed by Steam are completed with an activation code. So, how to use Steam Gift Card? Well, if you receive the code, you can use it to put the value of the Steam card into your account's digital Steam Wallet. This will allow you to balance your account. Then, you can use the Steam Wallet to purchase in-game items, downloadable content, games, and more.
However, if you choose to send the digital Steam card, those who receive it will also get some money added to their Steam Wallet. They can do it simply by accepting the card gift sent. You also need to know that you can activate the physical gift card received by inputting the code.
How to Send the Card?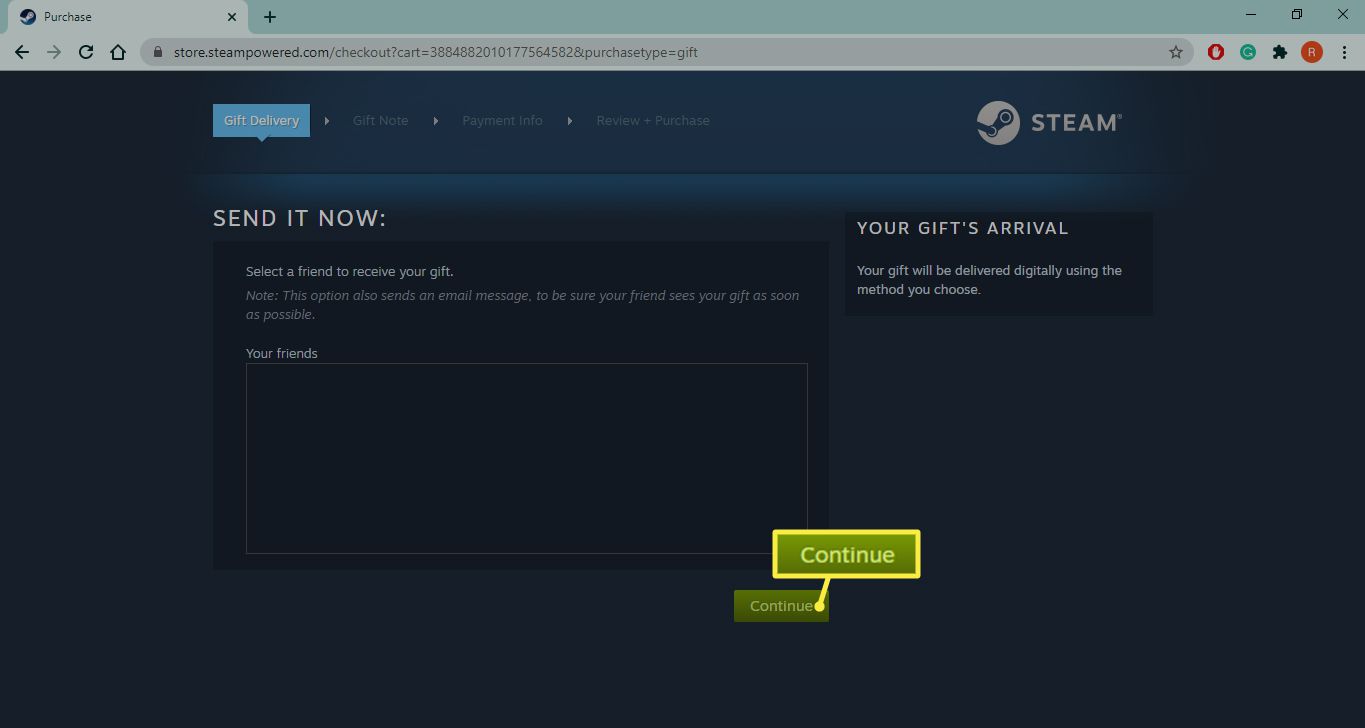 If you are wondering about the step-by-step guidance on how to send a Steam Gift Card, here are some tips to learn.
Go to Steam Website
The very first thing you have to do is go to the Steam website. You can do it while logging into your account. Then, make sure that you pick up the dollar amount of the gift card that you intend to send to your beloved ones.
Select Your Friend
The next thing you need to do is choose receivers you find on the list of your Steam friends. Make sure that you click the name before sending the card. Keep in mind that those who can receive the Steam Gift Card need to be listed as a friend on your Steam account. They should also be on the friend list of your account for at least three days. Also, you should not that it is impossible to use existing wallet funds to buy the gift card for your friends.
Get the Text
Once you have chosen the friends to receive your cards, you will get a text field from Steam. You can use it to write a note sent along with the gift card. Though it is just an optional step, writing the note will be a nice gesture from you.
Choose Payment Method
For the next step, you need to pick up a payment method. One of the best things about Steam is that this digital platform accepts almost all major credit cards. Not only that but you can also pay the gift card through PayPal.
Agree to Steam's Subscriber Agreement
Agreeing on the subscriber agreement of Steam is the next thing you have to complete. additionally, you will be asked to change the items you buy for the last time.
Get Confirmation
Last but not least. For the final step, you will receive an email sent by Steam. It contains confirmation from the digital platform that the transaction has been conducted successfully. It will also inform you that the digital Steam card you bought will be delivered to your beloved ones soon.
Purchasing Steam Gift Card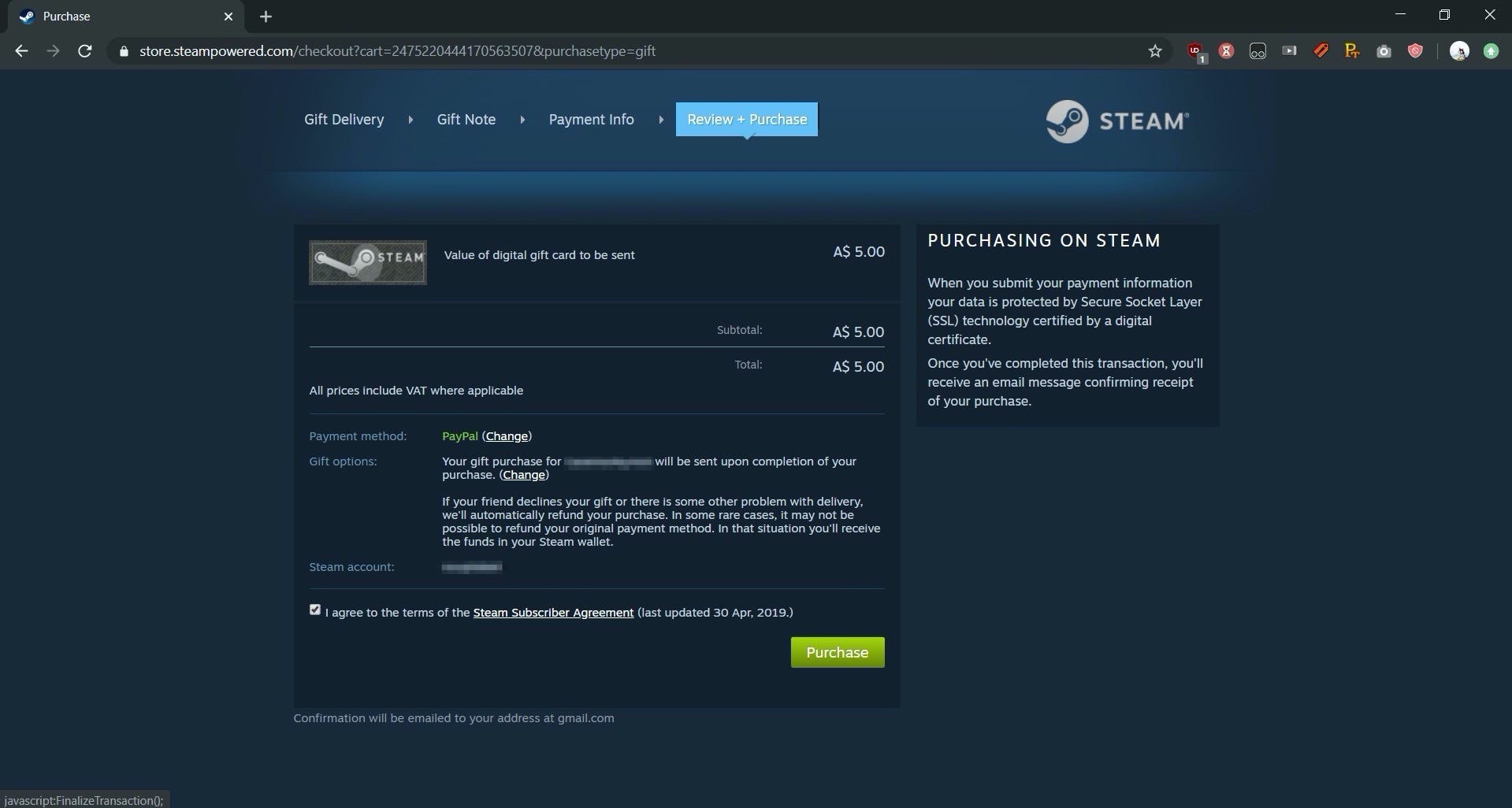 How to buy Steam Gift Card? Well, there are two different methods you can use to buy this digital Steam card. Though Steam is only available online, you can still get this gift card in many stores. You can use this card as a birthday present for your fellow PC gamers. This digital card can also be redeemed for credit through Steam.
If you want to get digital versions of this card, you can purchase them online. For example, you can use UniPin.com to buy your Steam Gift Card. Simply visit UniPin.com and go to Steam Wallet/Steam Gift Card page. You can buy it easily at UniPin.
However, there is an obvious differentiation between the digital and physical versions of the gift card. You can only see the difference in the price of the two versions. The most expensive price for digital cards is $100 and the cheapest one is $5. Meanwhile, the price of the physical gift card ranges from $20 to $100.
You can also send the gift card to friends who live abroad. The card you bought will be converted to the currency of your friends automatically. Even if your friends choose to refuse the digital card you sent, Steam will offer you a refund. Not only that but you can also ask Steam to refund the purchase to the original payment method of your preference. But, what if the method of payment you choose doesn't support this scheme? Well, the Steam Gift Card you bought will be refunded automatically into your Steam Wallet.