Fanny Mobile Legends is one of the female Assassin heroes that have dual weapons and unique yet deadly Steel Cable skills. According to Mobile Legends: Bang-Bang (MLBB) lore, Fanny is the younger sister of Tigreal – one of the famous Tank-Support heroes.
Read through this article to find some helpful details and tips on how to play Fanny MLBB especially for newbies.
Fanny Mobile Legends – The Female Assassin Hero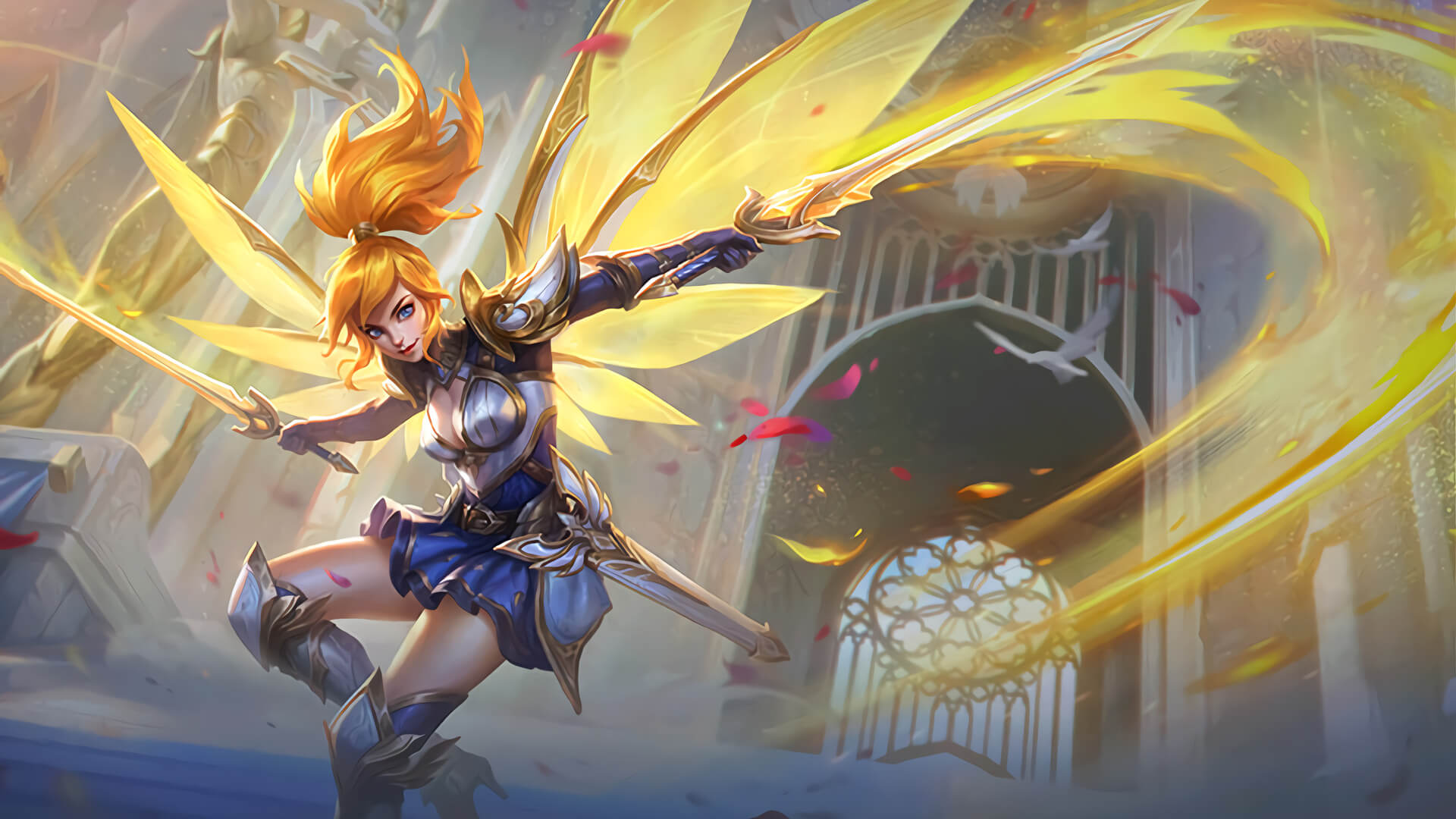 Fanny Mobile Legends is one of the unique Assassin heroes. She has a high level of agility and power – a unique assassin who uses her cables to walls, allowing her to dive into the opponent's formation, quick and deadly.
Fanny ML is one of the MLBB Assassin heroes who wield double weapons, twin blades called Blades of Freedom. Released in 2016, she is among the first heroes who can use Energy to kill enemies.
Her Deadliest Skills and Build

Fanny ML Skills
Before you start using Fanny Mobile Legends, you need to learn what her skills are and how each skill can work the best.
Air Superiority (Passive Skill)
This skill works when Fanny is flying, increasing damage (15% to 30%, depends on her flying speed). It will leave a Prey Mark on the opponent, giving her 10 energy regeneration every time she deals damage. If the opponent has two Prey Marks, it doubles to 20 energy.
Tornado Strike (First Skill)
Fanny ML will spin her blade (sword), inflicting damage  320 points of Physical Damage plus 80% Total Physical Attack to nearby targets or opponents.
Steel Cable (Second Skill)
It is Fanny's flagship skill used every time she attacks her opponents. She will throw a cable at a nearby wall and swing while slashing her blade. You can change the jump direction every two seconds and re-attack.
Fanny will use her First Skill automatically every time she meets an enemy, as long as she has sufficient energy.
Cut Throat (Ultimate Skill)
Fanny MLBB will initiate a swift attack on a target, inflicting Physical Damage (500 points + 240% Extra Physical Attack). She will get increased damage for 20% per stack if she successfully hits a target with a Prey Mark. You need to use this skill wisely since it has a somewhat Cooldown time (30 seconds).
Fanny ML Build Items
Fanny Mobile Legends may give you increased damage if you equip her with the right Fanny ML build items. Check out the following build combo recommendations.
Recommended set for Burst are Warrior Boots, Bloodlust Axe, Blade of the Heptaseas, Rose Gold meteor, Blade of Despair, and Malefic Roar.
Recommended set for DPS-Jungling are Raptor Machete, Warrior Boots, Bloodlust Axe, Rose Gold meteor, Antique Cuirass, and Immortality.
Recommended set for Sustained DPS are Warrior Boots, Bloodlust Axe, Brute Force Breastplate, Rose Gold meteor, Blade of Despair, and Immortality.
Tips: How to Play Fanny MLBB for Beginner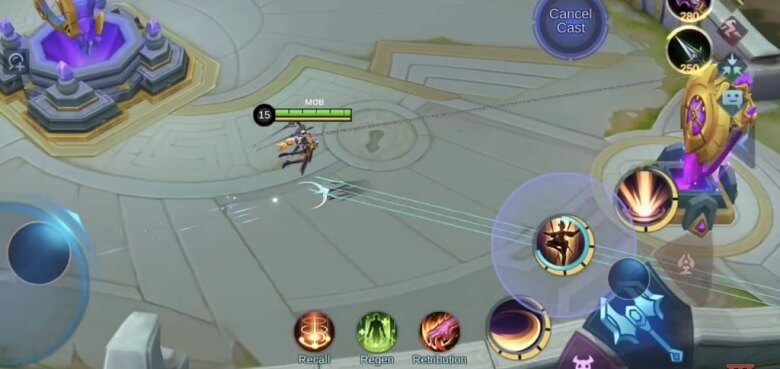 You will need many adjustments to Fanny Mobile Legends if you want to reach the goal as a proficient player. So, how to play Fanny ML for a beginner? Here are some tips to begin with.
1. Get yourself used to it
Regardless of the hero, you have to learn a lot to get used to it. For Fanny MLBB, you can start using her in customer mode. If you want to adjust to Fanny's agility, you can try AI fight. Try out the above skills as many as you can. Also, try numerous build item variations to fine-tune your playing style.
2. Memorize the wall position
Since Fanny depends on walls so much, you must know and learn by heart the wall locations in the game arena, for each line. Knowing – or even memorizing – the position of the wall means that you have an advantage during the game.
3. Learn to use Steel Cable
Memorizing is not enough. You also have to learn how to use Fanny's Second Skill – Steel Cable. It is better to set aside time to learn using this skill since it requires a high level of accuracy.
4. Know where the jungle monsters are
Fanny Mobile Legends is a mediocre hero in the early games. Accordingly, you must do farming all over the jungle to eliminate the jungle monsters. Try to show up in the mid-game of a battle or fight thus you will be stronger than your opponent's hero.
5. Know some of Fanny's weaknesses
As a beginner, you must also learn about some disadvantages of using Fanny ML to avoid any backfire you can get. Some of her weaknesses are as follows.
Fanny is hard to use. You cannot master Fanny Mobile Legends in just one or two games. As previously mentioned, you have to get yourself used to it, learn, and practice more.
She relies on buff too much.
She cannot do solo Lord.
She is easy to defeat.
She is not a late-game hero.
After knowing about Fanny Mobile Legends and some tips on how to use this one of the female Assassin heroes in MLBB, it's time to play it more. If you run out of diamonds, don't worry and top up them more at UniPin – the leading top-up platform for games. Choose the amount you want and get extra bonuses.