I am the moonlight that breaks through the darkness.
The entrance quote describes Miya Mobile Legends well since her hero feature is a "moon-blessed Marksman." Yes, Miya ML is one of the strongest or even overpowered Marksman heroes in Mobile Legends: Bang-Bang (MLBB).
Miya Mobile Legends "The Moonlight Archer"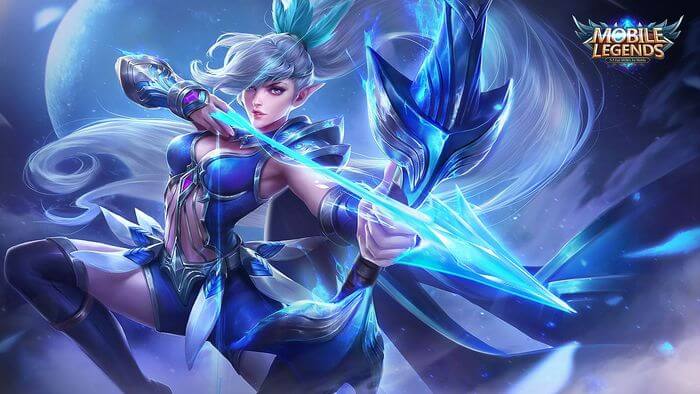 Miya Mobile Legends is an elf – a Moon Elf. She follows and prays for the Moon Goddess in Luna Temple of Moonlit Forest.
My arrow is my answer. It is Miya's other quote, referring to her title as the "Moonlight Archer." She has a silver Moonlit Longbow as her weapon and invisibility as her power.
When a threatening war is coming, as the Priestess of the Moon, Miya ML finally took her silvery longbow and joined other elves to fight in the moonlight.
"Great Moon Goddess, if war should come to this land, sacrifice cannot be avoided. Please give me the strength, courage, and faith to protect my people and our homeland!"
Miya Hero Profile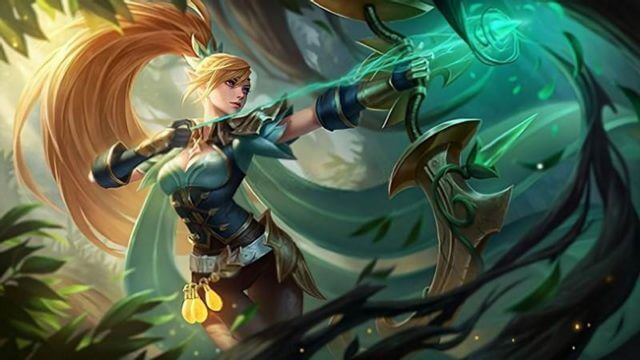 Let's start with some common trivia regarding this Marksman hero.
Miya Mobile Legends is the first hero of this game (released in 2016).
She is also the MLBB's official Mascot. You can see her in the game's logo feature and also in the finish part of every trailer or advertisement.
Inspired by Lufia of Magic Rush, Miya ML has a similar appearance and role.
How to play Miya, one of the most overpowered Marksman heroes in MLBB? As always, you must learn and understand her skills. Next, you need to equip her with proper Miya ML build items that go well with her incredible flair as an archer.
Her Skills
Moon Blessing is Miya's Passive Skill.
Her First Skill is Moon Arrow, splitting her Basic Attack into three arrows.
Arrow of Eclipse is her Second Skill, having the immobilizing effect.
Her Ultimate Skill is Hidden Moonlight, removing all debuffs and revealing herself.
Her Build Items
Here are two sets of Miya ML build items you can pick.
For DPS-Durable or deadly archers, you need to have Haas's Claw, Swift Boots, Berserker's Fury, Scarlet Phantom, Malefic Roar, and Immortality items.
For extreme speed or DPS-Push, you will need Scarlet Phantom, Swift Boots, Windtalker (or Corrosion Scythe), Demon Hunter Sword, Berserker's Fury, and Blade of Despair items.
Miya ML Strengths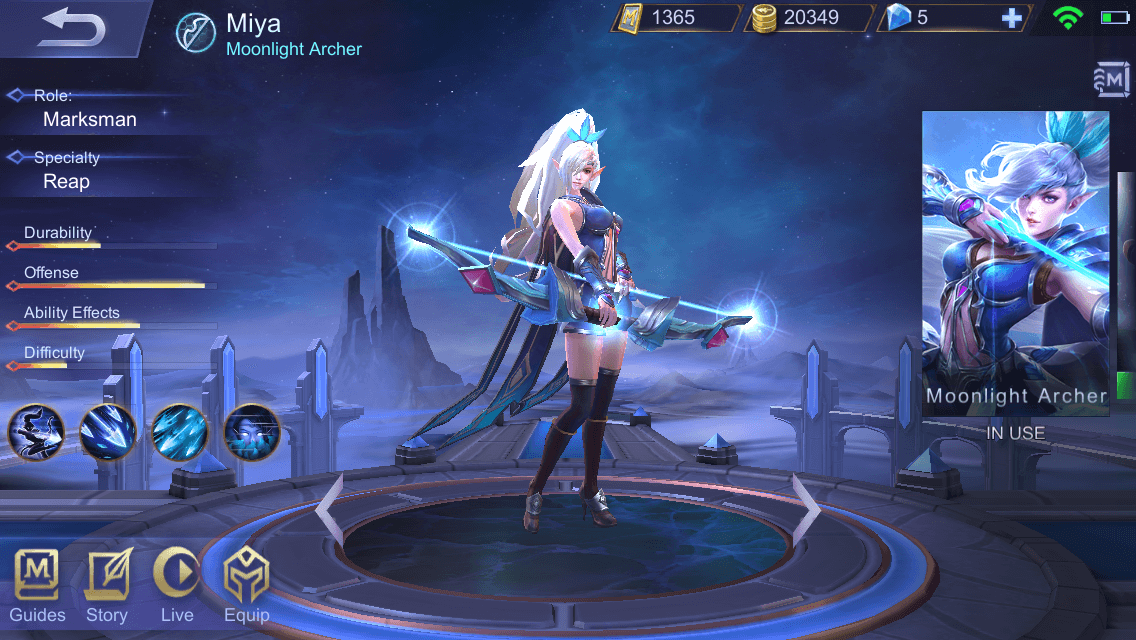 Looking at the above profile, we can say that Miya Mobile Legends is indeed one of the most overpowered Marksman heroes in the game. Unfortunately, we rarely see her being used or played at a high rank. How to play Miya more effectively?
Check out the following strengths Miya ML has if you are still hesitant to use this interesting hero.
Incessant Lifesteal Effect
This first strength is highly helpful, especially in the early and late games. Miya has an incessant, heavy lifesteal effect due to her huge burst damage, high-level attack speed, and Lifesteal items being used. She does not have to do necessary recall, yet she can kill a Lord and do war for a long time.
Deadly Crowd Control Skill
It is a lethal skill for a solo kill. With this deadly Crowd Control (CC) skill, Miya ML can easily lock the opponent's movement while at war.
It is her second skill – Arrow of Eclipse – that allows her to provide the CC effects. She will fire an arrow to a designated direction or location, dealing 90 points of damage (+45% Total Physical Attack) and causing the immobilizing effect for 1.2 seconds.
A Simple, Easy-to-Master Hero
Miya Mobile Legends is one of the simplest heroes who is easy to master. That way, many Miya users rarely play as noobs or become burdens for their teams.
As a simple hero, Miya has skills that are easy to understand. Also, her combo skill is easy or uncomplicated. For example, you do not need to have high-level finger speed or strong instinct to play this hero. The most important thing is you have to know the right timing to attack.
Deadly Basic Attack (Multiple Targets at Once)
Miya ML can attack more than one target at once with her basic attack, making her one of the deadliest and fastest in farming and jungling. She gets this deadly basic attack from her Passive Skill (Moon Blessing) and her First Skill (Moon Arrow).
Helped by the Moonlight Shadow, Miya uses her Passive to attack the targets when the stack is full. After that, using her First skill, she will fire two arrows that last for four seconds.
Team's Carry
As a Marksman hero, Miya is also able to carry her team. She can be a carry since she has huge damage, high-level attack speed, ability to perform split push, and solo Lord. She does not rely on winning against others. Therefore, you can play her as a hyper-carry hero. Accordingly, for solo players, Miya ML is highly recommendable.
Get more interested in playing this Marksman Hero? Be confident and unlock Miya in Mobile Legends. You can top up your MLBB game in UniPin to equip Miya Mobile Legends with appropriate items. That way, she can show her exceptional flair with her silver Moonlight bow and arrows.