If you want to play Genshin Impact using your favorite character, you also need to know Ningguang Genshin Impact build. If you are a fan of Genshin Impact, you are probably very familiar with Ningguang. She is one of the best Geo elemental characters you will use in this game.
On top of having quite a significant damage, Ningguang also has a lot of other skills that you will love. She is the only Geo character that uses the Catalyst weapon, which is why she is unique. Although she uses the Catalyst, Ningguang still manages to inflict damage to her enemies. That is why many Genshin Impact players use Ningguang to explore and fight many bosses.
Ningguang's skills do not stop there. She has a Geo element that can produce the Crystalize Elemental Reaction to every other elemental, including Hydro, Pyro, Cryo, and Electro. If you use the right artifact for her, she can be quite a notable character.
However, like any other character in Genshin Impact, Ningguang will not become powerful without the right build. That is why one of the most crucial things you should consider is Ningguang build. So, here are some of the things you should consider equipping if you plan on using Ningguang.
The Best Weapons for Ningguang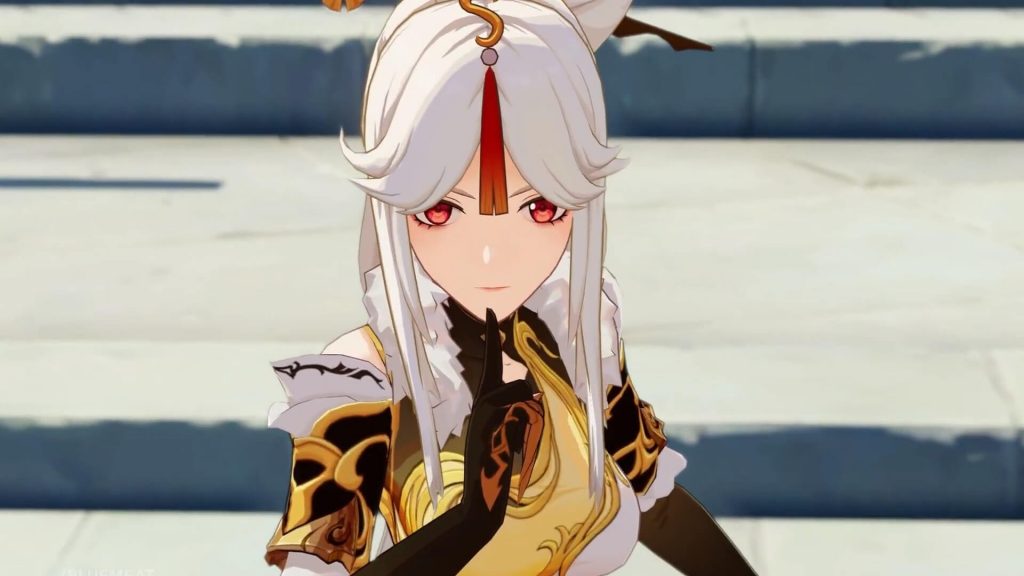 The first thing you need to consider is which weapon to choose. So, you will find a couple of weapons that will maximize the damaging impact that Ningguang has on her enemies. Here are some of the weapons you can try.
Lost Prayer to the Sacred Winds
Lost Prayer to the Sacred Winds is a Catalyst B5 weapon that can be perfect for Ningguang. This weapon has a critical rate of 33.1% at its maximum level, which is quite impressive. Aside from that, this weapon can also increase your character's movement speed by as much as 10%.
When Ningguang is in battle, she will get an 8% elemental damage bonus every 4 seconds. On top of that, this skill can also be stacked as many as four times. This special effect can last until the character dies or leaves the game. That is why Ningguang will be able to inflict so much damage with the help of Lost Prayer to the Sacred Winds.
With the proper amount of elemental damage bonus, your character can inflict higher damage to their enemies. So, Ningguang will be able to defeat her enemies without any problem at all. Lastly, this weapon is also pretty ideal to inflict higher burst damage to your enemies.
Memory of Dust
The next weapon you can use is Memory of Dust, which is also an ideal weapon for Ningguang. This weapon has an impressive 49.6% attack at its maximum level. It can also improve the shield skill by as much as 20%, which will increase Ningguang's defense. Of course, this effect will be especially beneficial for Ningguang, considering how she can produce shield crystals from the Crystallize reaction.
Another reason why Memory of Dust is a great Ningguang Genshin Impact build is that it can increase your attack by 4% every 8 seconds. This effect will appear every time you attack an enemy. On top of that, you can stack this effect as many as five times. However, keep in mind that this effect will only happen once every 0.3 seconds. When you have a shield, the attack improvement will increase as much as 100%.
Because Memory of Dust can increase your attack tremendously, this weapon will be very beneficial to Ningguang. Her damage will increase so much that she will be very powerful compared to her enemies. That is also one of the reasons why this weapon is very popular among Genshin Impact players.
Solar Pearl
The last weapon we recommend is Solar Peal. This is the perfect alternative weapon if you do not have the Catalyst B5. Although it is a Catalyst B4 weapon, you should not underestimate Solar Pearl. One reason is that it has a critical rate of 27.6% at its maximum level.
Solar Pearl has a unique effect. It can increase your elemental skill and elemental burst damage by as much as 20% every time you use a normal attack. Whenever you use elemental skill or elemental burst, your normal attack will also increase by as much as 20%.
The Best Artefact for Ningguang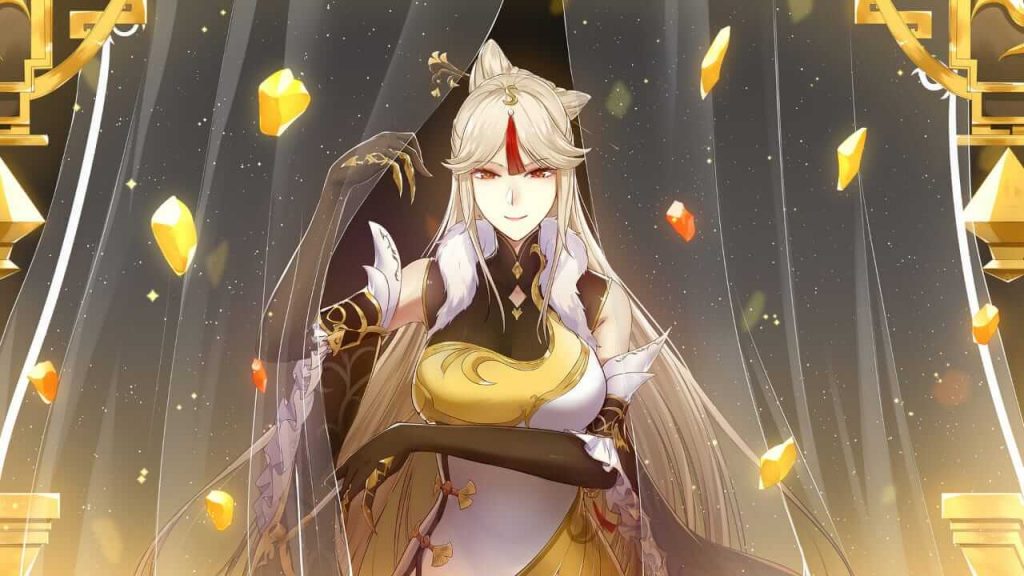 Another thing you should know about Ningguang Genshin Impact is the best artifact for her. You can either use the 2-set Archaic Petra and 2-set Noblesse Oblige or the 2-set Archaic Petra & 2-set Gladiator/Shimenawa.
The 2-set Archaic Petra & 2-set Noblesse Oblige is going to maximize your elemental burst damage. The Nobles Oblige can particularly increase the elemental burst damage by around 20%.
Aside from that, you can also use the 2-set Noblesse Oblige or the 2-set Archaic Petra & 2-set Gladiator/Shimenawa, which is a great alternative. This artifact combination can increase your Geo damage by about 15% and your attack by as much as 18%.
The Best Lineup for Ningguang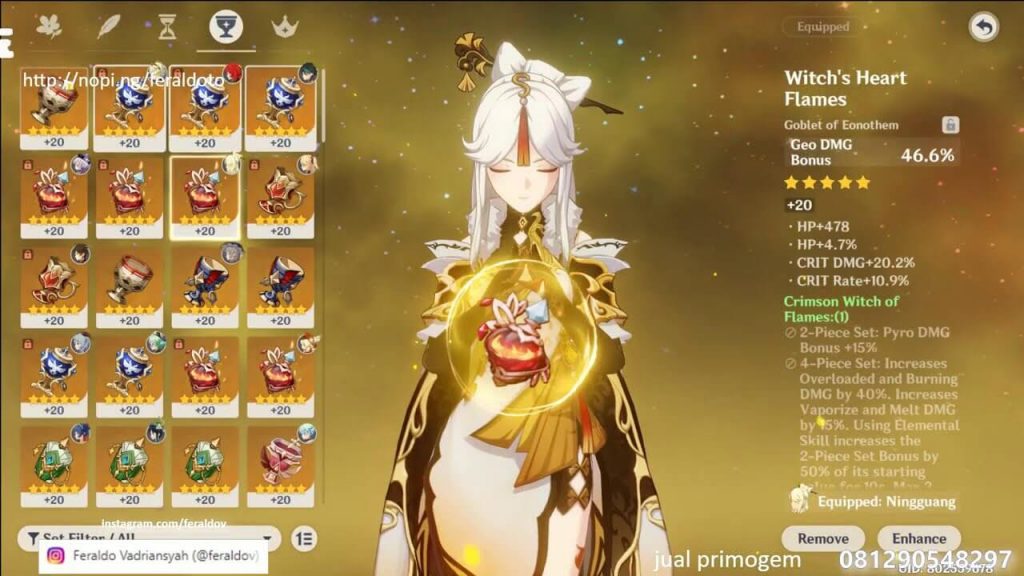 Lastly, we are going to talk about the best lineup for this Geo character. As a Geo element, Ningguang is particularly difficult to be paired with other characters. Why? Well, simply because Geo characters have a certain weakness. This weakness is the fact that they cannot increase their damage from element reactions.
Considering her weakness, the best lineup you can give to Ningguang is one that relies on only raw damage. This means that the best lineup for this character usually comprises of support Geo characters. Some characters you should consider include Noelle, Albedo, and Zhongli.
Other than supporting Geo characters, Ningguang is also compatible with universal support characters. These characters include Raiden Shogun, Jean, Xingqiu, and Bennett. Bennett can give her buff damage and heal through his burst element. All of those other characters will also each add something to the group.
So, now that you know the best build you can use for Ningguang, you do not have to worry anymore. Make sure that you follow our guide and you will win any game you can think of. That is all you need to know about Ningguang Genshin Impact build.