Meet Lisa, one of the best characters awaiting your command in the enchanting world of Genshin Impact. Armed with an Electro vision and a Catalyst, she's a force to be reckoned with.
Lisa isn't just your run-of-the-mill mage; she's a formidable one. She's celebrated as the most exceptional graduate in 200 years at the prestigious Sumeru Akademiya. After her academic triumphs, she returned to Mondstadt and chose a unique path – serving as a librarian in the esteemed Knights of Favonius ranks.
Were you intrigued to delve deeper into Lisa's character and abilities? You're in the right place! In this comprehensive guide, we'll unravel all there is to know about Lisa in Genshin Impact.
How to Unlock Lisa in Genshin Impact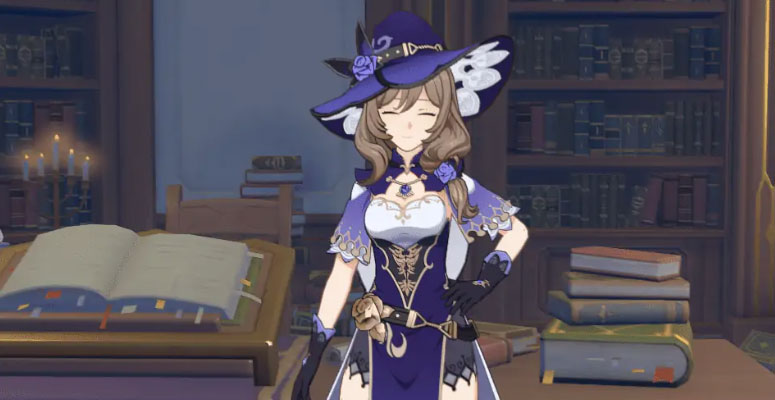 How do you add Lisa to your Genshin Impact roster? You can acquire this intriguing character for free by embarking on the captivating Archon Quest, "Sparks Amongst the Pages," found in the Prologue: Act I – The Outlander Who Caught The Wind.
"Sparks Amongst the Pages" is the ninth chapter in the Teyvat storyline, and here's how you can secure Lisa as your own:
Meet Lisa, the Librarian:

Begin your journey by visiting the Temple and conversing with the enigmatic librarian, Lisa.

Venture into the Temple:

Dive deeper into the story by embarking on the Temple of the Lion's quest, known as "Deep Within the Temple of the Lion."

Reconnect with Lisa:

After your temple expedition, return to Lisa. She will be yours temporarily as a trial character.

Electro Elemental Monument Activation:

As part of your quest, you must activate the Electro Elemental Monument. Be ready for a thrilling challenge ahead.

Battle Cryo and Hydro Slimes:

Face off against 20 Cryo Slimes and Hydro Slimes, including two formidable Giant Slimes. Conquer them within a tight 15-second interval, and prepare for the next challenge.

Take on Additional Enemies:

Your journey is still ongoing. Seven more foes will emerge, featuring 2 Abyss Mages, one

Cryo

, and one Hydro. Remember to not freeze them more than five times for added excitement and difficulty.
Unlocking Lisa in Genshin Impact isn't just a simple addition to your roster; it's a thrilling adventure that tests your skills and strategic prowess. So, dive into the world of Teyvat and embark on this epic quest to harness the power of Lisa!
Top Weapons and Artifacts of Lisa Genshin Impact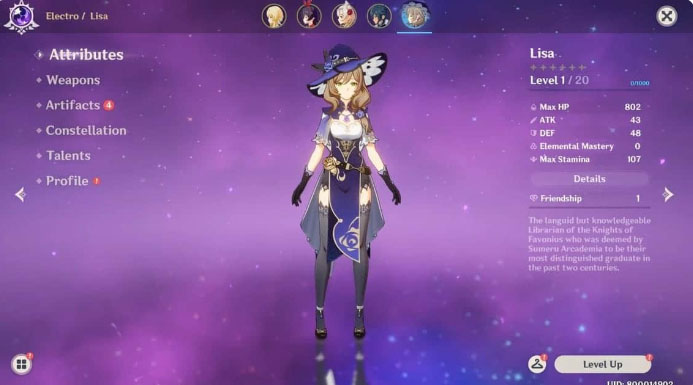 Unlock the full potential of Lisa with Kagura's Verity, her ultimate weapon of choice. This exceptional weapon boasts impressive stat bonuses and skill effects that turbocharge Lisa's Electro attacks to unprecedented levels.
What's more, Kagura's Verity also dishes out a substantial Critical Damage bonus, making Lisa's critical strikes devastatingly potent. This is a game-changer for unleashing elemental reactions with your team, paving the way for electrifying synergy.
With this upgrade, Lisa's Elemental Burst reaches newfound heights, allowing her to rain down even more destruction upon her foes.
But what about Lisa's attire? Regarding the perfect artifact set, look no further than The Emblem of Severed Fate. Tailored to suit Lisa's playstyle as an Electro Burst Sub-DPS character, it generously bestows her with an Energy Recharge bonus.
This Energy Recharge Bonus from The Emblem of Severed Fate serves as the lifeblood of Lisa's Elemental Burst, elevating its damage output to astonishing levels.
This artifact set is designed with two distinct bonuses: the 2-piece Bonus that amps up Energy Recharge by a remarkable 20%. This boost is essential, given Lisa's extended Elemental Burst cooldown.
Then, there's the 4-piece Bonus, a true game-changer, amplifying Elemental Burst DMG by 25% of Energy Recharge. Stack this Bonus up to 3 times, and watch Lisa's damage output skyrocket to a jaw-dropping 75%.
Now, let's delve into some intriguing Lisa trivia:
Lisa has a charming habit of affectionately calling Travelers "Cutie."

She imparts her wisdom to Razor, teaching him the intricacies of harnessing Electro abilities and the art of crafting Monstadt Hash Browns. Not to mention, she helps him master the human language!

In an exciting twist, the same voice actor, Park Go Won, lends their talent to both Lisa and

Fischl

in the Korean version of the game.

Lisa's name isn't just confined to her character; it's featured in the descriptions of two furnishings: Archivist's Treasure Trove and Night of the Party Pumpkins.

The enchanting "Purple Rose" in Lisa's title and attire is inspired by the Sumeru Rose, a rare food ingredient found exclusively in the Sumeru forest area.
Unlock the full potential of Lisa's power, and let her electrify your Genshin Impact journey! For a budget-friendly and lightning-fast Top Up Genshin Impact, look no further than UniPin!