M4A1 is an alternative if you are a beginner in Free Fire. It is considered one of the easiest AR weapons to use. Free Fire players prefer to use this weapon because it is more stable with a good balance.
Due to the specification, this weapon is suitable for all types of battles. We have the list of recommended M4A1 guns you can use to play in this game.
About M4A1 Free Fire Weapon
The range of this weapon is 77 in Free Fire. It means that this gun has the highest range among all Assault Rifles. It is a suitable gun for those who want to play in far-range combat. Unfortunately, the damage level is low per shot.
The average damage is only 56 and it is lower compared to other Assault Rifles. The best part is using this gun in mid-range combat. Free Fire gives M4A1 a variety of attachments, such as the muzzle, foregrip, magazine, scope, and stock. Some players also use this gun to replace semi-automatic snipers or snipers.

The Way to Use M4A1 Weapons in Free Fire
Although it is an easy weapon to use in a Free Fire battle, you still have to learn how to use it. As a result, this gun can help you to survive and knock down your enemy.
Combine This Weapon with Other Weapons
M4A1 has a good balance with a low damage level. Because of that, you can combine it with other weapons. Optimize this gun with SMG or shotgun. The combination of these guns will be effective in close combat.
This trick is ideal for players who often attack enemies aggressively. Alternatively, try to hide in a strategic location and use this gun as a sniper to kill an enemy from a faraway distance.
Make This Weapon Stable with Attachments
Despite all attachments you can use for this weapon, a muzzle is one of the best options. This attachment will make your weapon more stable. Make this gun more useful and effective to kill an enemy by adding Red Dot or x2 Scope. These attachments will make your weapon more accurate in shooting a faraway enemy.
Keep Your Distance
Keeping your distance against your enemies is crucial if using this gun. Be careful of enemies with M1887 or MP40. Both of them are good for close combat. Unfortunately, this weapon is less powerful compared to the M1887 and MP40. Using your gun as a sniper can be a good idea. You can find a place to hide and shoot your target in silence.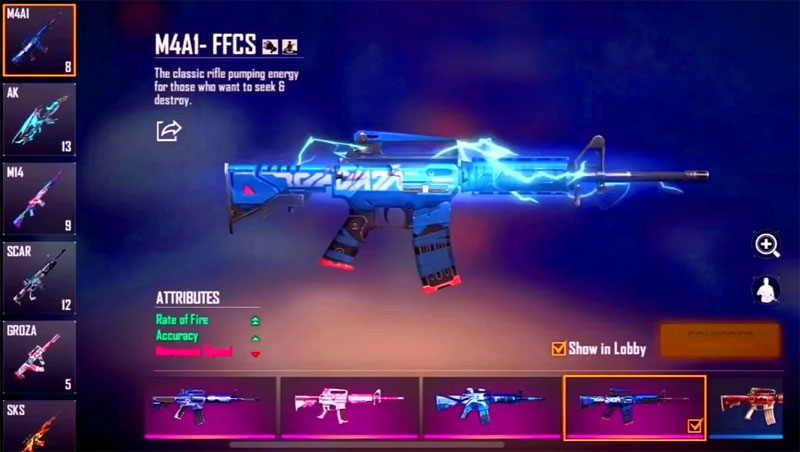 Recommended M4A1 Weapons to Use in Free Fire
M4A1 Deadly Bat
The characteristic of this weapon is its dark blue and white hue. You need to measure your distance before attacking an enemy. As a result, this gun can be more accurate and more damaging. It is also compatible with all damage-adding skins.
M4A1 Flaming Skull
Just like its name, this gun has blazed flames and a skull theme. You need to control the accuracy first before shooting your target. The more accurately you control this weapon, the bigger the damage and magazine capacity.
M4A1 Griffin's Fury
The best part about this weapon is its high rate of fire. Unfortunately, it is hard to find an M4A1 Griffin's Fury in the battle. Players also prefer to use this weapon because it has a longer shooting range compared to regular weapons.
M4A1 Plague
It is also another popular M4A1 weapon in Free Fire due to the damage status. The shooting result is similar to the AR guns. The drawback is the limited range. Best of all, this gun is effective enough to kill an enemy at medium range.
M4A1 Star General
You should use a maximum magazine capacity to get a double damage effect in a single range. Some players explain that they don't like its skin's appearance.
M4A1 Red Griffin
The best part of using Red Griffin in battle is that you don't require a high accuracy level to get a significant damage effect. On the other hand, the rate of fire should be higher for optimum performance. Players love its skin, along with fire-burning animation all around.
M4A1 Vandal Revolt
It is an eye-catching weapon with its monster image and a specific pattern in the middle of it. It has a high rate of fire. The higher the rate of fire, the bigger the damage.
M4A1 Pink Paradise
Free Fire released M4A1 Pink Paradise on Valentine's Day in 2021. Just like its name, this gun has a pink color and a black hue. It has a great rate of fire and is effective enough for close-range fighting. Be careful while using this gun because the reload speed is too slow.
M4A1 Netherworld Inferno
This weapon also has a high rate of fire. The higher the rate of fire, the higher the damage. Just like other M4A1 weapons, the reload speed is too slow. You have to be ready to run away when it is time to reload the gun.
Based on the explanation above, this gun is also one of the recommended guns you can use in Free Fire. It is effective enough for close-range fighting. The rate of fire and damage is higher.
You have to run away from the enemy while reloading time. Ensure that you are using M4A1 weapons with the right characteristics to optimize the performance and damage results.
Get to know more about your favorites games updates on UniPin Blog.