UniPin SEACA 2022 returns at the end of November with a number of competitions and a total prize pool of $30K. The tournament, which is held for the Southeast Asia region, takes place on November 15-29, 2022.
At this event, SEACA 2022 has a more interesting lineup of events and competitions. Starting from the Esport competition to SEATalks which is a forum for Esport lovers.
The SEATalks event is held by inviting a number of speakers who discuss various issues and the latest developments in the world of Esport. The speakers who will fill the event also come from Indonesia and several other countries.
Well, for those of you who are curious about the type of tournament at UniPin SEACA 2022, then don't miss this one review. Here are a number of competitions that will enliven the tournament event.
UniPin SEACA 2022 Competition List:
– PUBGM
– Magic Chess
– Cosplay
To make SEACA 2022 even more challenging, this one event also features a number of esport teams that fall into two categories. There are at least 16 public category teams and 17 ladies category teams participating in the tournament.
The SEACA MAJOR 2022 team will be the opening tournament with the FPP Hardcore In-game system in Southeast Asia. So, each team is required to adjust to the new system.
The SEACA MAJOR 2022 team names participating in the event broadcast live on UniPin Gaming's YouTube and Vidio channels are as follows.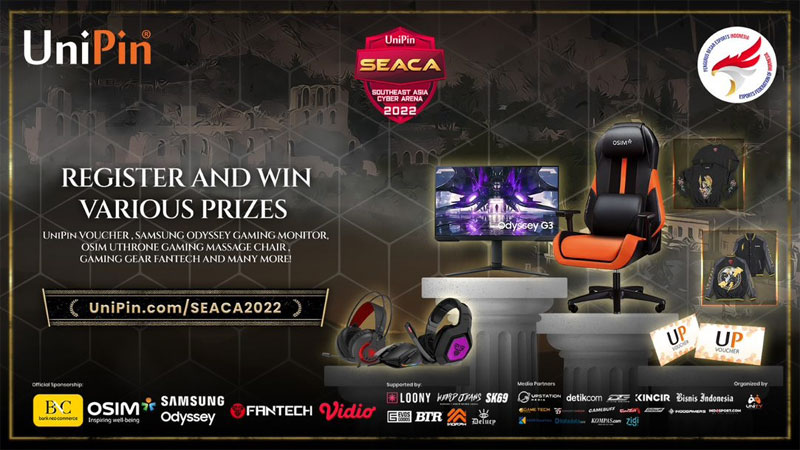 SEACA MAJOR 2022
GPBR Esports (Indonesia)

EVOS Reborn (Indonesia)

RRQ Ryu (Indonesia)

MORPH GGG (Indonesia)

ARF.Team (Indonesia)

ONIC Prodigy (Indonesia)

Yoodo Alliance (Malaysia)

RSG (Malaysia)

The Gringos Esports (Malaysia)

Underground KINGZ (Malaysia)

Glazer Esports (Malaysia)

Team End Game PS (Filipina)

Infamous E-Sports (Filipina)

Playbook Esports (Filipina)

GameLab Alpha (Filipina)

Zalty Legends Esports (Filipina)
SEACA MAJOR LADIES 2022
Bigetron Ace (Indonesia)

ONIC Axe (Indonesia)

Alter Ego Dione (Indonesia)

Dewa United Lynx (Indonesia)

Bulls Chaos (Indonesia)

Aditama Viper (Indonesia)

Sweet Monster Floryn (Malaysia)

AI Huntress (Malaysia)

Maven (Malaysia)

Rage Unleashed Sassy (Malaysia)

IHC Goddes (Singapura)

Mata Ladies (Thailand)

UTG International EU Girls (Filipina)

Stronghold Xavia (Filipina)

Ace to Glory Asteria (Filipina)

Eklestos Panthera (Filipina)

4 Strangers (Filipina)
If you want to take part in the tournament, then you can immediately register yourself at the SEACA 2022 link. Register yourself and get a variety of attractive prizes that have been provided.
By registering for the SEACA 2022 event, you can get a chance to win some gaming accessories. Well, what are the prizes provided in this tournament? Here's the prize list for the UniPini SEACA 2022 event.
– UniPin Voucher
– Samsung Odyssey Gaming Monitor
– OSIM Uthrone Gaming Massage Chair
– Fantech Gaming Gear
And many more! So,what are you waiting for? Let's register yourself right now!