Honkai: Star Rail stands out as a game that has captured the hearts of many thanks to its distinctive combat style. Following the remarkable success of Genshin Impact, Mihoyo is once again pushing the boundaries of gacha gaming with the introduction of Honkai: Star Rail. Amidst a roster of captivating characters within the game, Himeko shines as one of the most intriguing choices. Her character is steeped in a beautiful backstory, and her skill set makes her a valuable addition to your team.
Today, we invite you to dive deeper into the world of Himeko with UniPin as we explore her character guide, shedding light on her unique skills, weapon preferences, and the rich tapestry of her background. Let's embark on this thrilling journey of discovery!
Himeko's Skills in Honkai: Star Rail
Unleashing the Fury (Basic Attack)
Witness the inferno as Himeko deals a scorching Fire DMG, scorching a single enemy for a fiery 50.0% of her ATK.
Explosive Eruption (Skill)
Himeko ignites her foes with a blazing onslaught, inflicting Fire DMG equivalent to 100.0% of her ATK upon a lone adversary. But that's not all – her fiery attack also engulfs nearby enemies in a searing conflagration, burning them for 40.0% of her ATK.
Heavenly Inferno (Ultimate)
Prepare for the ultimate blaze! Himeko summons a cataclysmic firestorm, raining Fire DMG equivalent to 138.0% of her ATK down upon all her foes. And here's the kicker – for every enemy she vanquishes, Himeko's Energy surges, granting her an additional 5 Energy.
Triumphant Surge (Talent)
When Weakness Break strikes an enemy, Himeko seizes the opportunity to amass 1 Charge, accumulating up to a maximum of 3. Once her Charge is complete, if a comrade launches an attack, Himeko springs into action with a devastating Follow-up Attack, immolating all enemies for a scorching Fire DMG equal to 70.0% of her ATK. Her Charge points are consumed in the fiery spectacle. She's awarded 1 Charge point at the beginning of each battle to kickstart her Charge.
Unfinished Inferno (Technique)
After deploying her Technique, Himeko conjures a mystical Dimension that lingers for 15 seconds. When she confronts an adversary within this otherworldly realm, there's an unerring 100.0% chance that the enemy will suffer an additional 10.0% Fire DMG for two turns. However, only one Dimension effect from a teammate can exist at any moment.
You also need to know more about the best Honkai Star Rail characters that you can learn more about because this can help you maximize the game Honkai Impact Star Rail.
Himeko's Radiant Eidolon in Honkai: Star Rail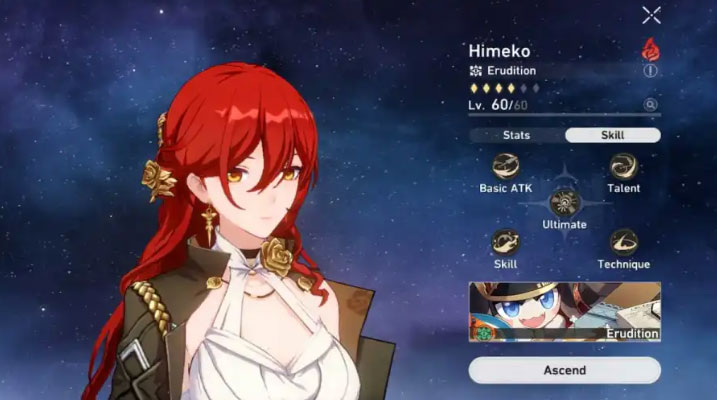 Following the activation of "Victory Rush," Himeko's speed surges by an astounding 20% for 2 exhilarating turns.
Himeko's might intensifies as she imposes a 15% boost in DMG on her hapless foes whose HP falls below or equals 50%.
With unwavering dedication, Himeko's Skill Level gains +2, reaching a maximum of Lv. 15. Her Basic Attack Level receives a +1 boost, capping at Lv. 10.
When Himeko's skills exploit a Weakness Break in an enemy, she acquires an extra charge, reinforcing her onslaught.
Himeko's Ultimate attains newfound heights with a +2 increase, reaching a maximum of Lv. 15. Her Talent also receives a +2 upgrade, achieving the pinnacle at Lv. 15.
Himeko's Ultimate now leaves scorched trails, dealing an additional 2 rounds of fiery DMG to random foes. Each burst scorches with Fire DMG equivalent to 40% of the initial onslaught, leaving enemies in agony.
You also need to know more about the Honkai Impact Star Rail map, which can be a reference for playing this MMORPG!
Recommended Himeko Weapon Build in Honkai: Star Rail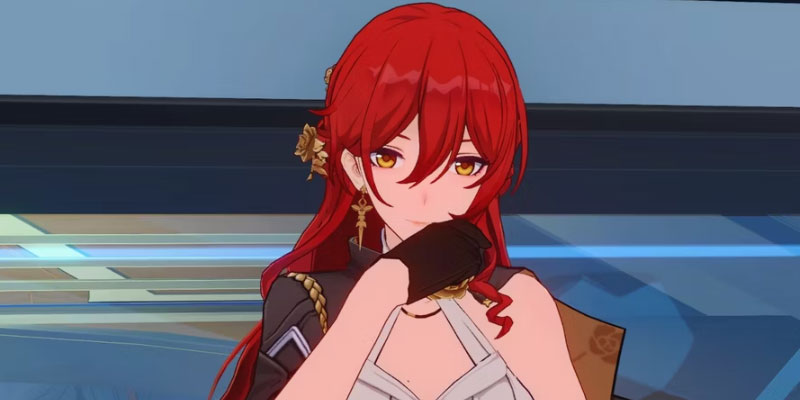 In the thrilling world of Honkai: Star Rail, maximizing Himeko's damage output is the name of the game. After all, it's the key to swiftly emerging victorious in battle. As a player, your primary objective is to boost her destructive capabilities by equipping the right Relics and Light Cones. Let's delve into the art of creating a powerhouse, Himeko!
Key Stats to Focus On: CRIT Rate/DMG, ATK%, SPD
The path to Himeko's supremacy begins with prioritizing core stats. CRIT Rate and CRIT DMG are essential for dealing devastating blows to adversaries. Pair these with a healthy dose of ATK% and a dash of SPD to keep Himeko agile on the battlefield.
Planar Ornament Stats: Fire DMG, ATK%
Opt for Planar Ornaments that bolster Fire DMG and ATK%. These attributes will ignite Himeko's combat prowess, setting the stage for fiery encounters.
Relic Sets: Firesmith of Lava-Forging (4PC), Space Sealing Station (2PC)
Consider adorning Himeko with the Flamesmith of Lava-Forging set (4-piece) and the Space Sealing Station set (2-piece). These relics will significantly enhance her damage output, paving the way for a formidable force on the battlefield. Remember, though, that relic stats take precedence over set bonuses. Feel free to mix and match relics if they align with Himeko's core priorities.
Light Cones: Unleash the Power
When it comes to Light Cones, some fantastic options cater to both free-to-play and premium players. Geniuses' Repose and The Seriousness of Breakfast are noteworthy choices. Both unleash their effects upon vanquishing foes. Geniuses' Repose boosts CRIT DMG, while The Seriousness of Breakfast enhances raw ATK. Choose wisely to amplify Himeko's potential.
Embark on Himeko's Adventure in Honkai: Star Rail
Himeko's journey in Honkai: Star Rail is nothing short of captivating. She's an intrepid scientist with a lifelong fascination with the Astral Express. After years of dedication, she finally restored the magnificent train. Her quest? To explore the boundless skies with the Astral Express.
But Himeko quickly discovers that her adventure is just beginning. On the Trailblaze path, she encounters new friends who share her passion for the breathtaking starry skies. Despite their diverse goals, they all unite under the same celestial canopy, ready to embark on an unforgettable odyssey.
These are several things about Himeko Honkai Impact Star Rail that you can implement further. This article can improve your playing Honkai Impact Star Rail. You can also Top Up Mobile Gaming, which you can do at UniPin now!