Discussion about PUBG is incomplete without mentioning its array of weapons. Throughout the course of this game, each player has worked with various weapons. They need to know how to use weapons effectively to win. A comprehensive pubg weapon guide is necessary in this case.
3 Categories of Weapon in PUBG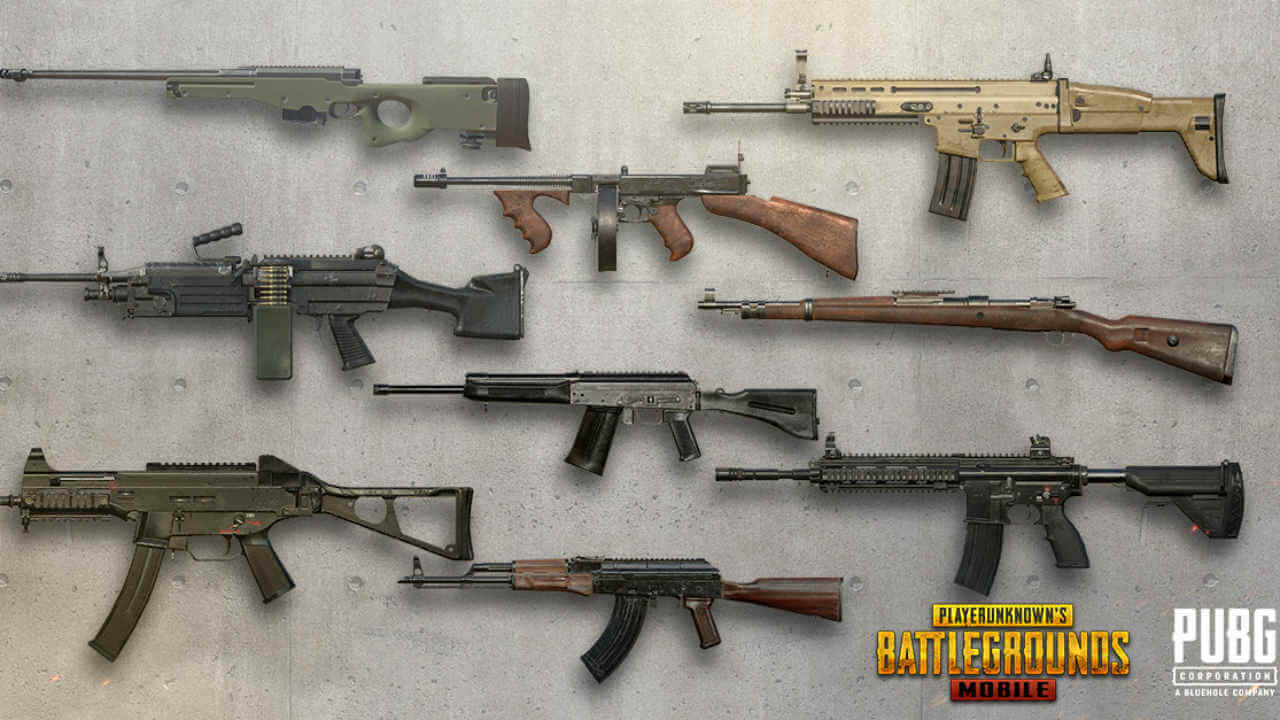 In PUBG, players use weapons to defeat their enemies as quickly as possible. Learning the main categories of weapons within the game helps players to gain ideas about the game's landscape. Here are the 3 main weapon classifications in the game:
1. Firearms
The game is very active and sometimes moves at a fast pace. Attacking the enemy accurately in such a situation becomes crucial for your win. Moreover, you need to create significant damage on other players.
Firearms become helpful weapons for that purpose. Some of them are designed for short-range attacks, while others are great for long-range uses.  They are considered so versatile that many players prefer to use them more than the other categories.
2. Throwables
Just as the name suggests, throwables mean weapons that you throw. These weapons can cause an immediate ruckus. However, unlike firearms, throwables are not meant for attacking the enemies. Instead, pubg weapon guide suggests their use as tactical weapons.
A throwable weapon is great for blocking certain areas for the enemies. Combining the weapon with a firearm attack will help you defeat the enemies easier. They are unable to go to other places to protect themselves from the shots.
The following PUBG weapon list shows some items included in this category:
Smoke grenade
Stun grenade
Frag grenade
Sticky bomb
Molotov cocktail
Decoy grenade
C4
3. Melee
Weapons listed in this category are weapons that you use in a pinch. It does not have any attack range. You need to be very close to the enemy if you consider their use. A quick kill can be achieved with these tools. Bludgeoning your enemies is also fun. However, a player must be deft enough as it is not easy to utilize the weapons.
Melee items include:
Pan
Sickle
Crowbar
Machete
Types of Firearms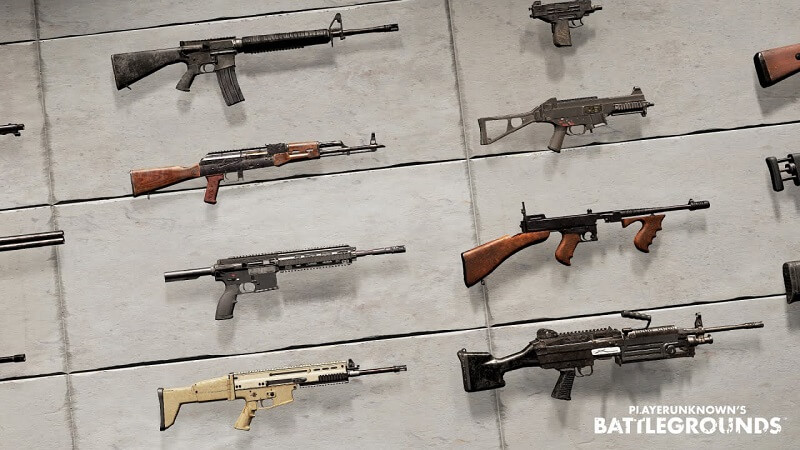 Firearms is arguably the most appealing weapon category for the aforementioned reasons. The weapons that fall into this category are so abundant that it deserves a further explanation. Here is the pubg weapon guide for firearms:
1. Assault Rifles
Most players will argue that assault rifles are the most reliable weapons in the PUBG realm. Players can shoot targets accurately, although DMR might offer greater accuracy. However, assault rifles are more efficient. You can make several damaging shots without exhausting the ammunition.
2. Shotguns
This gun requires a more specific type of ammunition due to its built. Players find the gun more useful when being used to shoot at short to medium range. Farther than that, the impact would not be as damaging. Additionally, the long-range shots are less accurate with shotguns.
3. Pistols
According to the PUBG weapon guide, this gun is actually very reliable. The weapon is great to carry around especially if you are going around places. However, the damage rate is very limited. Players need to change to more damaging weapons as soon as possible. You can use this as a secondary weapon instead.
4. Designated Marksman Rifles (DMR)
DMR is a mid-range category. It is not as advanced as a sniper rifle. However, compared to an assault rifle, the DMR is definitely more powerful. You can do more damage to the enemy. The shooting range is not as far as a sniper rifle, though.
5. Submachine Guns
If you enjoy close combat, then this gun type fits you perfectly. It is a great tool to defeat enemies at a close range. However, the magazine is larger so you will not run out of ammunition as quickly. The damage is also notably more significant than the pistol. It is a great gun to carry around.
6. Light Machine Guns (LMG)
Compared to assault rifles, the damage caused by LMG can be more significant. At a short time, an LMG is capable of firing bullets in rapid succession. However, it exhausts the ammunition pretty fast. Thus, the weapons quickly become useless after a short attack until you get a new ammunition.
7. Sniper Rifles
The pubg weapon guide shows that sniper rifle is the most powerful firearm type in the game. It has great accuracy, is highly damaging, and offers a versatile shooting range. However, players must exercise careful use as it takes a moment to reload the gun to gain its best momentum.
How to Utilize the Weapon Effectively?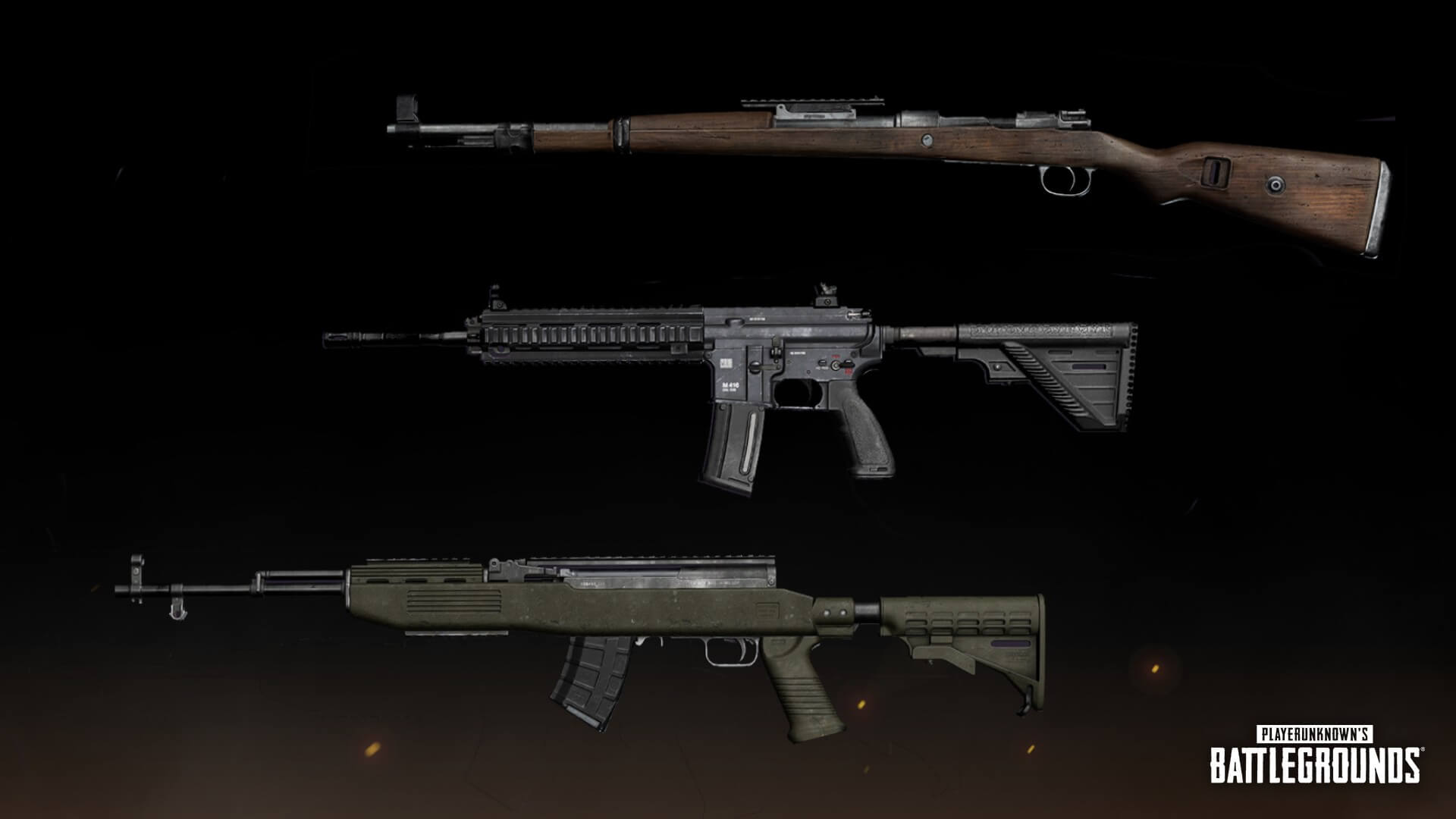 How to use PUBG weapon effectively? There are some suggestions from expert PUBG players, such as:
Grabbing the most powerful close-range, mid-range, and long-range weapons that one can find.
Grabbing the best ammunition that one can find.
Combining various weapons in one use.
Keeping throwables in the inventory but not using it unless necessary.
This comprehensive pubg weapon guide can help players who are steadily building their ranks through the competitive world of PUBG. It is a fun game that can get serious at times.