My blade moves with the shadows.  Here comes the Assassin-Mage hero Gusion ML – the Holy Blade. It is one of the famous quotes by this hero, implying his extremely fast skill of using blades like a shadow, along with his unpredictable movements.
Let's get to know him more—Gusion Mobile Legends or some things you need to consider on how to play Gusion, like his role, skills, Gusion MLBB build items, etc.
Gusion ML – His Role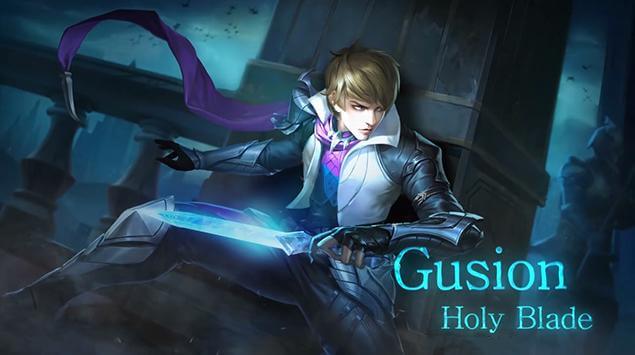 Gusion ML is a type of Assassin-Mage hero in MLBB. Born as Gusion Paxley of the Mage House Paxley, he is a naturally eccentric blade wielder. Also, he is good at controlling blades and daggers using his divine magic power.
As a Mage hero, Gusion possesses enormous burst damage he gets, especially from his second skill. He can easily and quickly kill opponents with that high-level burst damage, such as carry heroes like Hanabi or Lunox.
Like other Assassin heroes, Gusion Mobile Legends needs to master high-level mobility to finish off his enemies in sudden or spontaneous deadly attacks. By using his first skill, he can swiftly approach the targets and hit them.
How you play Gusion? First, you can use three recommended emblems: Magical, Assassin (Bounty Hunter or Killing Spree), and Mage (Mystery Shop or Magic Worship, or Impure Rage).
Gusion Assassin Hero – Skills and Build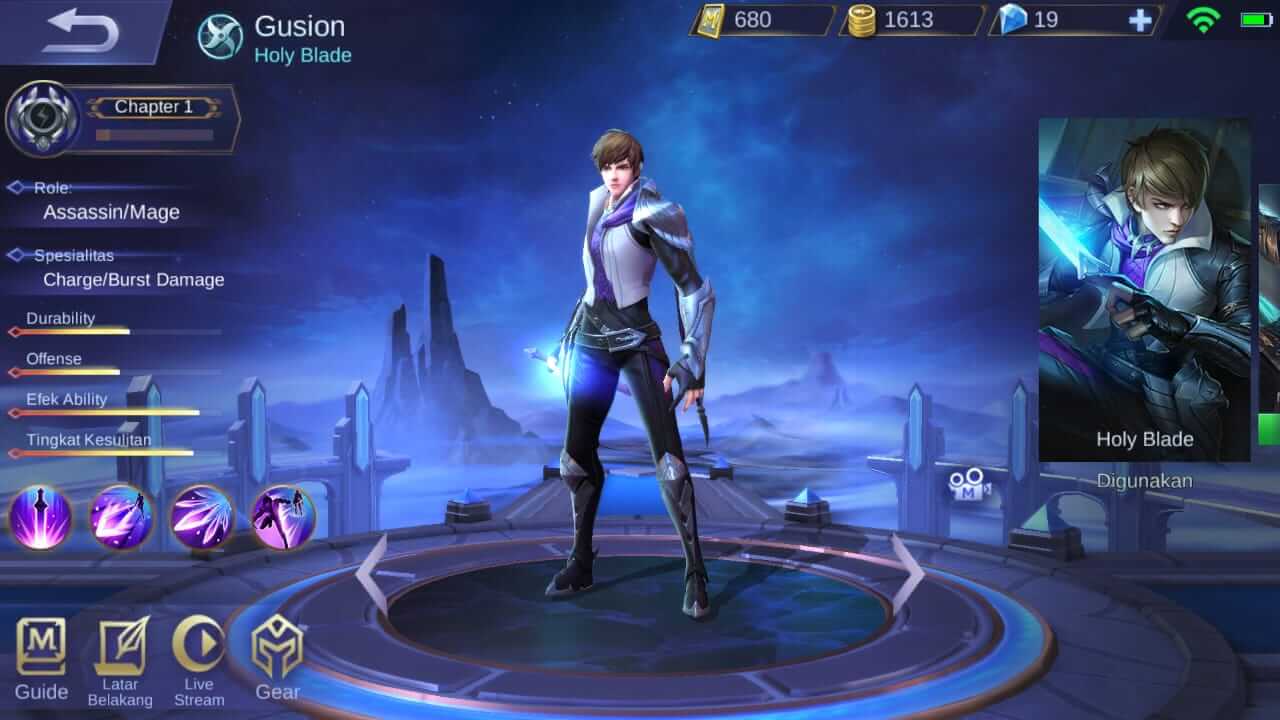 Next, if you want to play Gusion ML, you must learn about his skills.
Gusion's Passive Skill is Dagger Specialist
Every time he uses this skill, his dagger will get an extra rune. Once he stacked three runes, his next Basic Attack deals a Physical Damage (100% total Physical Attack plus 15% of the target's lost Health Points (HP)). At the same time, it heals his HP to 80% depending on the Damage cast.
Sword Spike is Gusion's First Skill.
He will throw a dagger in a specified direction and deal 200 points of Magic Damage plus 50% Total Magic Power to the first opponent he hits. Using this skill once more, Gusion will dash to his opponent's back, dealing 200 Magic Damage +100% Total Magic Power.
Gusion's Second Skill is Shadowblade Slaughter
He will throw five daggers; each deals 110 points of Magic Damage plus 50% Total Magic Power to the first enemy he hits. It will cause a slow effect to the opponent's hit for two seconds (6% with a maximum slow of 30%). He can also summon back his previous five daggers, dealing damage to enemies as they return to him.
The Ultimate Skill Gusion Mobile Legends has is Incandescence.
He will blink to a designated direction while refreshing the Cooldown (CD) of his Sword Spike and Shadowblade Slaughter instantly at the same time. Using this skill once more, he will dash to a melee targeted direction, using his Second Skill to cast five daggers and restore ten daggers.
If you want to get the deadliest Gusion ML, don't forget to have the following Gusion MLBB build items.
For Sustained DPS, you need to have Rapid Boots, Lightning Truncheon, Calamity Reaper, Concentrated Energy, Winter Truncheon, and Blood Wings.
For Burst, you need to have Arcane Boots, Lightning Truncheon, Calamity Scythe, Glowing Wand, Concentrated Energy, and Blood Wings.
Like other heroes, Gusion Mobile Legends typically uses critical that combines DPS and Burst build items. They offer increased speed movement, physical damage, magic power, or energy to make this assassin-mage hero overpowered in a combo.
Some of His Cool Quotes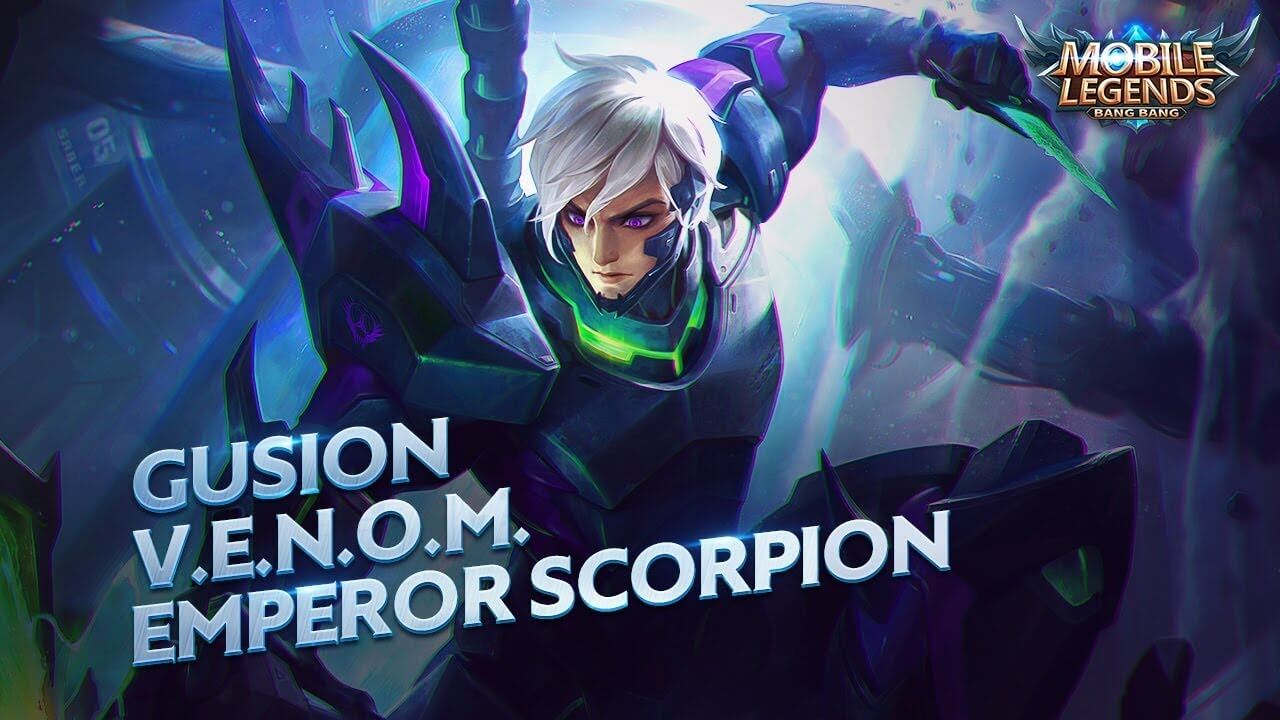 In addition to his cool appearance, Gusion ML is also notorious for his fast and spontaneous lethal attacks using his blade skill. He always says something in the game. Let's take a look at his popular quotes. You have seen one of them at the beginning of this article.
"The perfect combination of might and magic"
It is his entrance quote, especially during hero selection. He wants to say that he possesses the powers – the might and magic.
"Take a guess, at how many swords I Have?"
No one knows even Gusion's enemies, the exact numbers of his infinite swords.
 "Magic lies in the mind. But my blade follows my heart."
It is to tell that Gusion's blade is truly devoted to him by following his heart rather than his mind.
"To the hidden blade, all life is equal."
It points out that Gusion ML always treats each life (human) as an equal for all the unlimited hidden blades he has.
"Break the limits!"
He says this quote every time he uses his Ultimate Skill. It means that he will break his limits and reset or refresh all his Cooldowns.
So, that's some quote collections by Gusion Mobile Legends when you use him in the game. Many opponents, especially Mages and Marksman, tend to fear him as one of the deadliest Assassin-Mage heroes who can finish off his targets in a heartbeat.
If you get interested in using Gusion ML to play, don't forget to buy the necessary build items to optimize his skills and deadly damage outputs. You can start by getting your Starlight Membership or Twilight Pass via UniPin's MLBB diamonds top-ups.