In January 2022, travelers were treated to an unexpected delight from the heart of Genshin Impact's Yunjin character. Yunjin, renowned for her enchanting melodies, pleasantly surprised players.
The captivating voice of Yunjin was brought to life by the talented Chinese opera singer Yang Yang. Yang skillfully lends his voice to Yunjin, especially during her musical performances.
Among all the characters featured in the Genshin Impact game, players can discover and engage with characters that genuinely pique their interest.
Yunjin Genshin Impact Facts
Counterbalanced by a variety of details about Yunjin in Genshin Impact, which are outlined below:
1. Yunjin, the Unique Character with Dual Voice Actors
Yunjin stands out as a truly exceptional character in Genshin Impact due to the presence of not one but two distinct voice actors lending their talents to breathe life into him. Additionally, when Yunjin takes the stage to sing, another gifted artist named Yang Yang assumes the role of Yunjin's vocal expression across all languages.
2. A Young Director's Earned Respect
Yunjin's journey into the business world, inheriting his family's legacy, marked a pivotal moment in his life. Despite his youth, Yunjin garnered immense respect from the elders, who recognized his exceptional talent and capabilities as a director. 
This formal recognition, however, was reserved solely for business matters. Outside the professional realm, Yunjin's "grandfather and grandmother" would affectionately pester him to care for himself and spoil his grandchildren.
3. Yunjin's Visual Inspiration from Chinese Opera
Genshin Impact demonstrates a remarkable commitment to character depth and detail, exemplified by the characters' meticulous designs. Yunjin's appearance, in particular, draws inspiration from the world of Chinese opera, mirroring the likeness of Daoma, a formidable female warrior in this traditional art form. 
Daoma is renowned for her spear-wielding prowess, adept singing, and acrobatic skills, all captured in Yunjin's visual portrayal, complete with a flag ornament adorning his back.
4. Geo-Element Support Character with a Polearm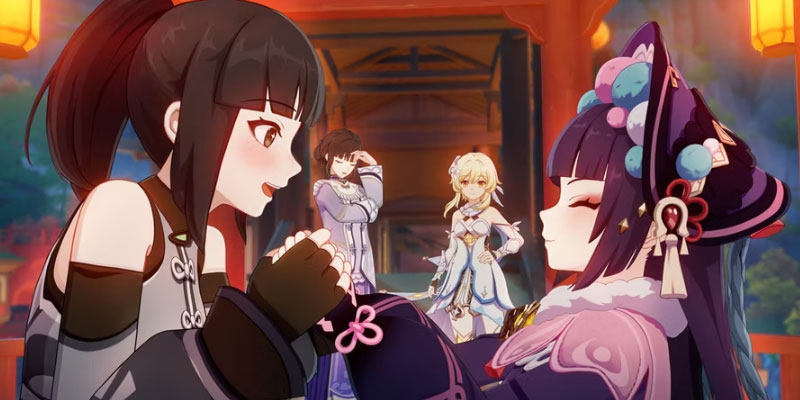 Within the Genshin Impact roster, Yunjin takes on the role of a four-star character, proficiently wielding a polearm and harnessing the power of the Geo element. His primary function is to support his team by amplifying their attack damage. Yunjin's elemental abilities deliver significant damage to nearby foes.
5. Born Into the Opera Tradition
Each character in Genshin Impact boasts a captivating backstory, and Yunjin is no exception. She hails from a family deeply rooted in the Yun-Han opera tradition, a legacy passed down through generations. This familial connection has honed Yunjin's remarkable vocal talents, making him a formidable opera singer.
6. Admiration for Hu Tao's Uniqueness
Hu Tao once revealed a past bet with Yunjin concerning the singing style of Hilitune. This revelation sparked curiosity among fans, eager to hear how Yunjin would interpret this operatic tune. Surprisingly, Yunjin greatly admires Hu Tao's eccentric and distinctive style, recognizing the unique qualities that set him apart.
7. A Vision Rediscovered Amidst Crisis
In a crisis, Yunjin uncovered a GeoVision while donning a costume. Due to unavoidable circumstances, she found himself unable to perform opera. Nevertheless, she continued to sing until she could recall only fragments of the unfolded events. Eventually, Yunjin rediscovered his GeoVision concealed within the costume.
8. Ideal Weapon Choice: The Favonius Lance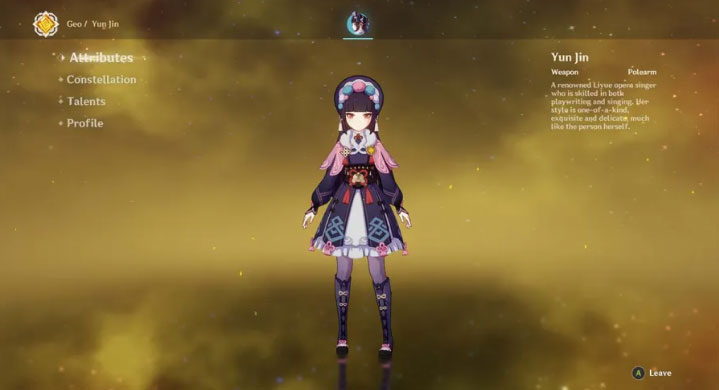 For Yunjin, the Favonius Lance is the ideal weapon, offering an energy recharge sub-stat that enhances his energy restoration abilities during combat. This versatile weapon allows him to maintain an ample energy supply while considering other weapon options as needed.
9. The Star of Genshin Impact 2.4 Opera: "The Divine Damsel of Devastation"
Yunjin takes center stage in Genshin Impact 2.4, delivering a captivating performance in the opera "The Divine Damsel of Devastation." This lyrical masterpiece narrates the tragic tale of Shense, an Adepti student, and intriguingly, Yunjin crafted this opera based on legend, as she only learned of Shense after completing the composition.
10. Culinary Quirks: A Disdain for Shrimp and a Love for Beverages
Yunjin, as a performer, adheres to stringent dietary expectations, abstaining from excessive meat consumption. Consequently, she developed a dislike for stir-fried shrimp due to overindulgence. 
However, this culinary restriction has led Yunjin to taste various beverages fondly. These refreshing drinks are an inspiration source, and his friend Xingqiu even keeps a jar of tea leaves under Yunjin's bed to provide a creative boost whenever needed.
Those are some facts about Yunjin Genshin Impact, which can be a reference for improving the game Genshin Impact more compactly. Then, to maximize, you can Top Up Genshin Impact on UniPin right now!