Hwoooooo! Wipe out all the injustice in the world! It is the signature entrance quote by one of the most popular fighter heroes – Chou Mobile Legends. Listening to this hero saying, you will immediately recognize it as one of the iconic sounds by the well-known martial artist and actor, Bruce Lee.
Before we explore more interesting facts about Chou—his role, skills, build, and how to play—let's take a glimpse at his first character-making trivia.
The initial Mobile Legends Chou design was wearing a yellow tracksuit and having dark hair—the iconic portrayal of the martial art legend Bruce Lee. Later, Chou had gray hair and a black tracksuit with yellow accents.
Another reference to the inspiration is Chou's first Jeet Kune Do skill, a philosophy and martial art created by Bruce Lee. His ultimate The Way of Dragon skill was from Bruce lee's 1972 film.
Chou Mobile Legends – His Role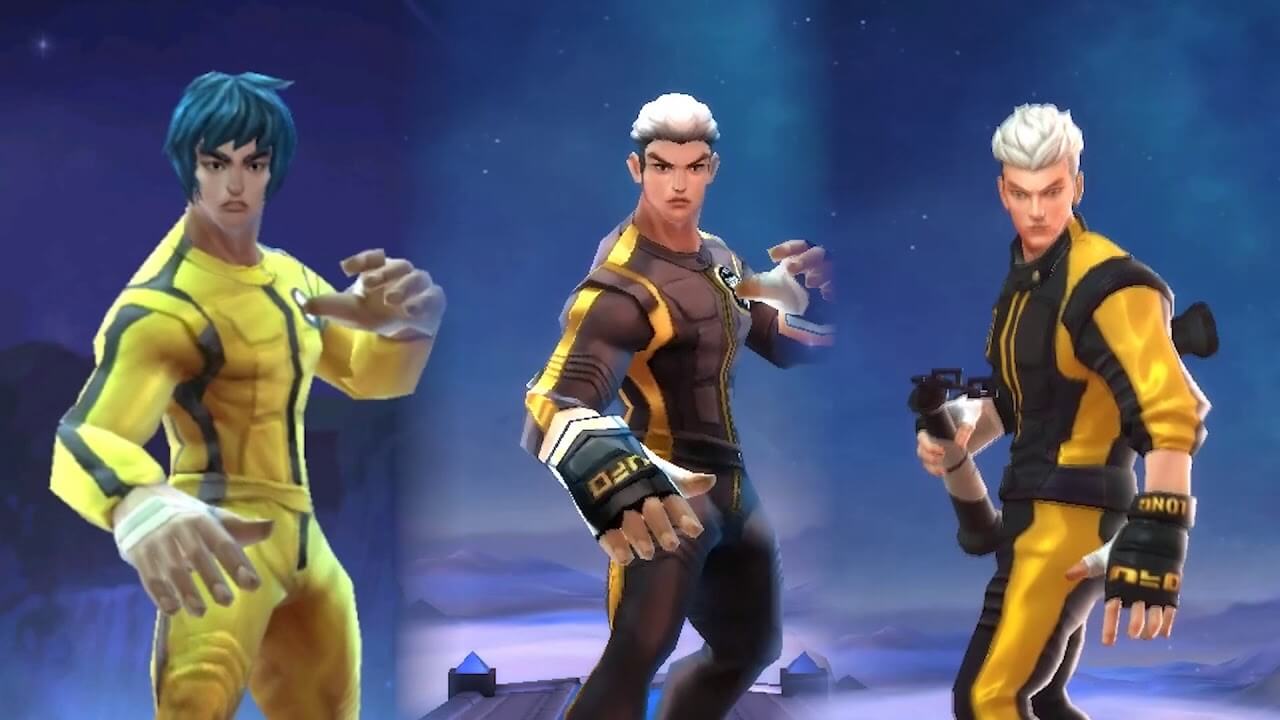 Released in 2016, Chou Mobile Legends is one of the oldest characters, along with Balmond, Miya, Nana, and more. According to his background story, he gained the Asian Kung-Fu skill after saving an old monk who taught him to be a fighter.
As a fighter, he retains the combination of attacking and defensive abilities. Categorized as an intermediate melee hero, a fighter actually has between the durability of a Tank and damage of an Assassin. Therefore, Chou also possesses multi-purpose roles, such as a Semi-Tank, a Tank, an Assassin, or a Crowd Controller.
He can function as a Tank since he can enter into the middle of a fight with his skills. By using a tank emblem, Chou can cast damage and avoid opponents' skills. If his position allows, he can abduct one of the enemy team members using his ultimate skill (usually a flicker spell).
Chou Skin – What can you get?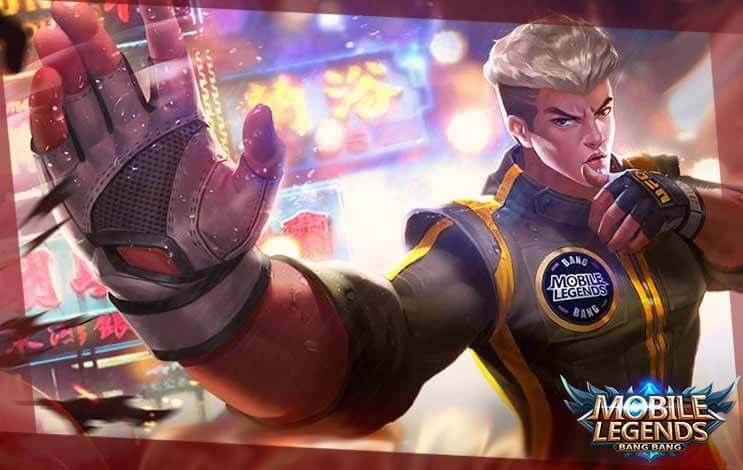 The following are four of the best Mobile Legends Chou skin options you can use to play with this MLBB hero.
Iori Yagami (KOF skin)
Iori Yagami is one of the most special skins, as you can only get it by waiting for an event. This skin also offers the coolest visual and voice. The red-colored skin costume instantly radiates a cool and strong aura from the start.
Furious Tiger (Special skin)
Considered as the most costly, you can buy this Chou Mobile Legends' skin by using diamonds. This skin has Taekwondo as its theme.
King of Muay Thai (Elite skin)
This skin has the Muay Thai theme with an animated visual in combination with a Belt boxer on his stomach.
Go Ballistic (Star skin)
First released in 2019, this skin is quite rare since you can purchase it with premium Skin Fragments or diamonds. Similar to Iori Yagami, you can only wait for an event to get it.
Chou Skills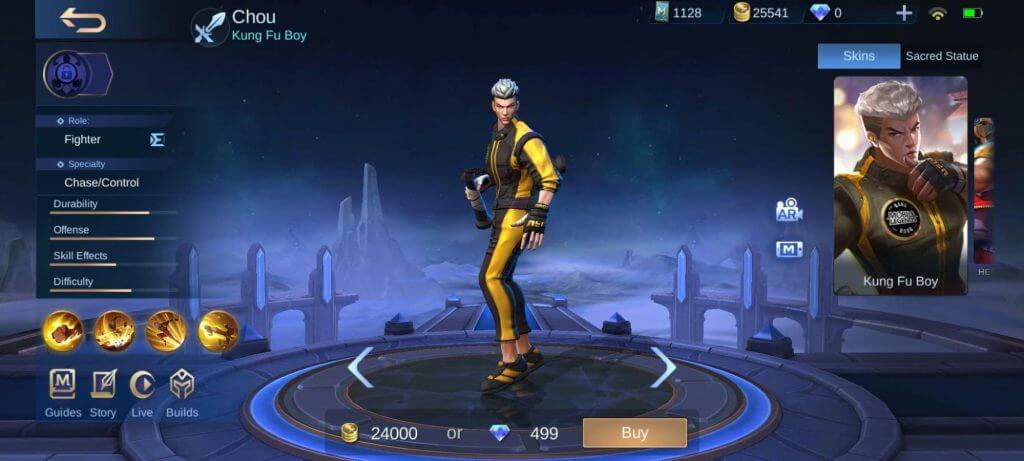 As stated earlier, Chou's first and ultimate skills are inspired by Bruce Lee's martial arts. Overall, Chou Mobile Legends has four skills as follows.
The Passive Skill – Only Fast
If Chou moves every eight yards, his next basic attack casts 180% damage (physical with no critical attack) and gives a slow effect (80%) to the enemy briefly.
The First Skill – Jeet Kune Do
Mobile Legends Chou will punch (blink) forward incessantly three times. Each punch or blink will have 180% points of physical damage (plus 70% physical attack). The third blink will throw the closest opponents into the air (the airborne effect). After hitting an enemy hero, it will reset the cooling down of the second skill (shunpo).
The Second Skill – Shunpo
After making dashes forward, Chou will increase his Physical Penetration points, making him immune to all crowd control effects. At the same time, he can also gain a shield that can absorb 200 points of damage (plus 200% extra physical attack) for two seconds.
The Ultimate Skill – The Way of Dragon
With this skill, Chou will cast a roundhouse kick, knock-backing the targeted enemy with 400% points of physical damage effect plus an additional 200% of physical attack. Tap it once more, and Chou will chase and kick the target into the air within two seconds. It gives at least an extra 400% points of physical damage, plus an extra 200% of physical attack.
What are Chou's best builds?
After knowing the skills, the next thing you need to learn is Chou Mobile Legends build. Since the right build arrangement will determine your hero's performance, choosing the wrong one may cause them weak or non-lethal.
Some of the sickest build-ups for fighter hero Chou Mobile Legends are Blade of Heptaseas, Warrior Boots, Endless Battle, Blade of Despair, Queen's Wings, Thunder Belt, or Malefic Roar Roar. Each build will overpower the hero with defenses, damage points, penetrations, and more.
To sum up, how to play Chou properly?  Of course, you need to know all the above things about Chou Mobile Legends. Moreover, you cannot use this hero carelessly (noob) during the early or late games. Upgrade your hero's skills by equipping them with suitable build items, skins, and more. Kindly visit UniPin for a hassle-free MLBB diamond top-up.