On Google Play today, there are undoubtedly a lot of fun and interesting simulator games to play. When compared to other forms of games, this type of game certainly has a lot of fun. Because simulator games normally do not need high-end hardware.
In fact, the sorts of simulator games available are fairly broad, including self-defense simulations, military simulations, life simulations, and others. However, the simulation of driving or driving a bus is highly thrilling and has the potential to attract gamers.
Sometimes people want to know what it's like to be behind the wheel of a bus. This large vehicle appears to be more difficult to drive and demands different abilities than a standard car. Game creators appear to be aware of the widespread desire to simulate the sensation of driving a bus. Here are the top seven best offline Bus Simulator games on Android.
School Bus Simulator
This bus simulator game Android is approximately 142MB in size and designed by games2win.com. As stated in the title, this game gives you the experience of driving a school bus and taking students to their school. As in general, in every game there will always be more challenges that are presented to add to the fun while playing.
There are 110 missions to finish in all, with an additional 20 bonus missions. In addition to these missions, you may drive over 100 different types of buses, each with its own unique design. If you are weary of using the bus, you may choose for different modes of transportation such as sports cars, SUVs, and others.
Bus Simulator Pro 2
This game is created by Mageeks Apps & Games. With a size of 177MB, this game provides a quite realistic bus driving experience. You will be treated to a dashboard that is quite detailed and very similar to the dashboard of a real bus. This bus simulator game Android is one of the kinds.
In addition, there is a weather change system that makes driving feel real and realistic where you can experience driving situations when it rains, also during the day and night. This realistic driving experience will be enhanced by the presence of car traffic and people's activity on the side of the road, just as it is in our everyday lives.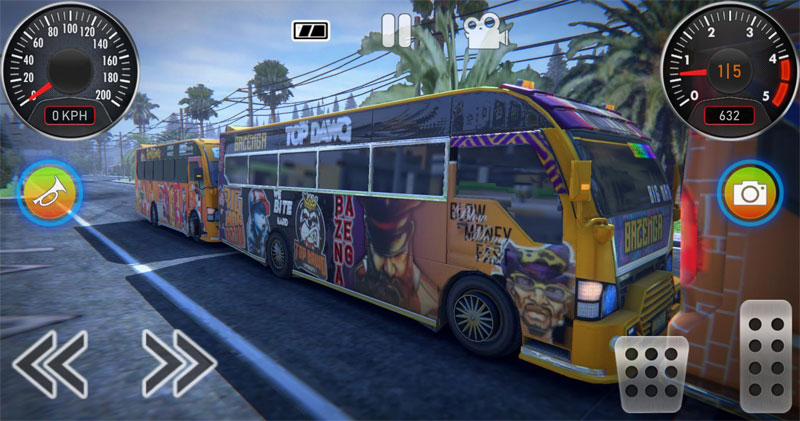 MM2 Racing
If the previous two games were designed to develop leisurely bus driving abilities, MM2 Racing is not. In this game, you will race a bus and experience the thrill of driving a massive vehicle on the road.
Not to mention the design, which is both thrilling and fascinating, as well as a highly tough driving experience. But don't do what's in this game, folks, because it's extremely dangerous and violates driving laws. MZII ENT produced this game, which has a file size of 104MB.
Bus Simulator 2015
In terms of graphics, Bus Simulator 2015 may be preferable to other bus simulator games on Android. Not only that, this game, which is developed by Ovidiu Pop, has been downloaded over 50 million times. This game will use 64MB of your internal storage.
In this bus simulator game, your goal is to become a bus driver and then fulfill numerous thrilling goals like dropping passengers down a route. To give a realistic bus driving experience, the developer undoubtedly enhanced traffic density to make it more difficult.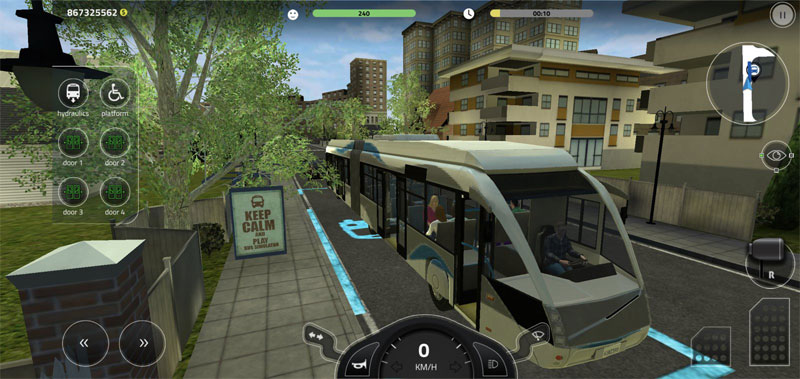 Public Transport Simulator
Players in Public Transport Simulator will be challenged to become dependable bus drivers. You will not only be able to operate a bus, but also a van and a taxi. Like previous bus games, you must transport the passengers to their destination. This game is developed by SkisoSoft.
In addition, you must follow the traffic regulations to guarantee the safety of your passengers. The game also has a leaderboards system, which allows you to compare your driving skills to those of other players. This game will use 60MB of your internal storage.
Coach Bus Simulator
Initially, Coach Bus Simulator was only available for iOS users. However, once designed for Android, this bus simulator game Android has the potential to attract gamers. As the title says, you will be educated to become a competent bus driver, beginning with transporting passengers and ending with parking the bus.
Furthermore, there are two main forms of play: offline or multiplayer mode, where you may play with your pals. Not only does it offer nice visuals and features, but the missions in this game are also highly intriguing and tough, making you addicted to playing them. This game will use 27MB of your internal storage.
Bus Simulator 17
Bus Simulator 17 is a great bus simulator game since it offers HD visuals. In 3D driving mode, you will feel as if you are driving a real bus, along with a variety of interiors. This game will use 27MB of your internal storage.
This game is highly recommended for those of you who enjoy playing simulation games since it has been downloaded by over 10 million Android users worldwide. Furthermore, Ovidiu Pop, the game's developer, has always managed to mesmerize millions of players with its simulation games, like Bus Simulator 17.
Get to know more about your favorite game updates on UniPin Blog.