Free Fire is a battle royale game that can be played for free. This game is created and developed by Garena. This game is the most favorite game for gamers. In Free Fire, you will land on a barren island to then look for weapons and resources that can be used to keep you alive and eliminate other players.
Do you know that in 2019, this game became the most downloaded game? Not only that, free fire also received an award as the most selected game from the Google Play Store. Of course this makes more and more people curious about how to play free fire. Therefore, here we give you the tips for newbie players on how to play free fire like a pro.
How to Play Free Fire in Basic?
How to play free fire mobile? First, you have to go to the Google Play Store or App Store and download Free Fire. Search for the game by typing "Garena Free Fire" then the game will appear and you can install it. The size of the game itself is 570 MB. After the installation is complete, log in with a guest account or use Facebook.
After you have finished logging in using your account, now you can start to enter the game. First, you will get off an airplane and be on a hoverboard. From there you can slide or head to your preferred location on the map. On the map there are many choices of interesting locations for you to visit.
Then, after landing where you want, you need to look for weapons and other resources to survive there. You should have an ideal loadout consisting of long range weapons such as snipers and long range weapons such as SMGs or rifles. That's actually the main key regarding how to play free fire.
After getting the loadout, you should start looking for sound and gun clues that will lead you to your enemy. You have to be patient in this fight because that will determine the fate of your survival there. Regarding how to play free fire smoothly, then you also need the EP or Energy Power that is in the mushrooms throughout the free fire map.
You can use EP to slowly recover your condition from enemy attacks. That's what you need to do if you experience major or sudden damage. Not only that, because Garena Free Fire is a character game, you have to choose a character that is appropriate and appropriate to your playing style or location. This will greatly affect your game or match.

Tips for Playing Free Fire For Beginners To Increase Your Chances of Winning
Actually, how to play free fire is quite easy. Because this game is a game aimed at killing each other and getting booyah, then you need a good playing strategy. To get this strategy there are some easy tips that you can apply.
You have to choose the right place or jump location. Make sure that before you jump, you have to pay attention to the area that is safe for landing. You have to choose a place to jump far away in order to avoid other players. You also need to prepare weapons at the beginning of the match and look for blood anticipation to be able to fight the enemy well. That is the way how to play free fire mobile well in the early stages.
You also need to recognize the map. Because free fire is a battle royale game, so that it is easier for you to master the match, you need to master the map well. Each map in free fire has a hidden place and a different place of war. You should not underestimate it, because if you are blind to the map then you will find it difficult to get your first booyah.
You also have to do the loot as necessary. Just take some necessary items. You have to choose and master weapons well both for close and long range. You can also use a bag to store these weapons. You also have to take items in the form of medical equipment so that you can help your recovery when you are attacked by enemies. When you get shot and can escape, you can add or recover health points (HP).
Practice with all weapons. You can do this because Garena Free Fire provides a training mode which you should make the most of before starting the real game. You have to get used to assault rifle type weapons because there are so many types. Why the assault rifle? Because these weapons are often found in loot locations.
When practicing using Free Fire weapons, make sure you master the difference in accuracy points, range range, and damage generated from all of these weapons. You also need to train your reflex skills to make it easier to attack and repel enemy attacks.
In playing this free fire, don't be in a hurry. You have to be patient in order to know your opponent's weaknesses and attack them well. Don't keep shooting, but wait for the right moment to attack your opponent. That's how to play free fire like a pro.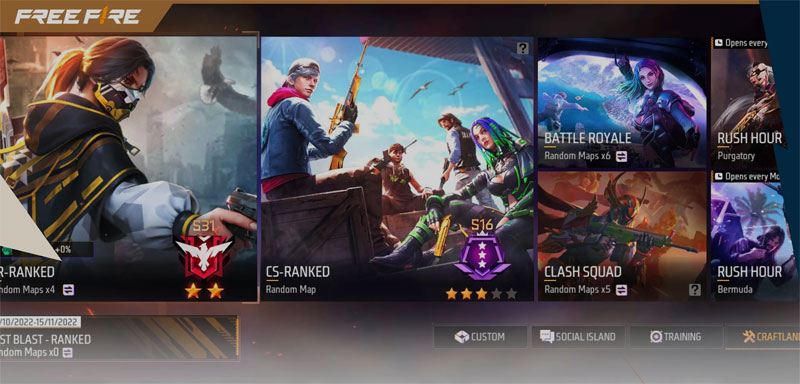 In addition to some tips related to how to play free fire above, there are several other things you should do when you first play the game. Make sure that you use a comfortable device to play this free fire. Customize the device to your play style. Also choose a strong character and according to the location you choose. So it is very important for you to understand each character in free fire.