Vermillion Hereafter as one of the Genshin Impact's artifact sets, tagging along with the Echoes of an Offering artifact. These babies are found fresh from the oven in The Lost Alley, the newest domain at The Chasm.
Word on the street is that this artifact set is tailor-made for Xiao. You know, the dude who's always been recommended to rock the Viridescent Venerer or other ATK-boosting artifacts like Gladiator Finale?
This Vermillion Hereafter pack seems custom-fit for Xiao, giving a power boost to his attacks and Elemental Bursts. It's like they made it just for him!
But, apart from our man Xiao, which other Genshin Impact heroes can flaunt the Vermillion Hereafter look?
Do you want the deets on this Genshin Impact artifact set? Let's dive into the nitty-gritty: the mechanics, the bonuses, and who's best suited to don these artifacts.
The Lowdown on the Vermillion Hereafter Artifact Set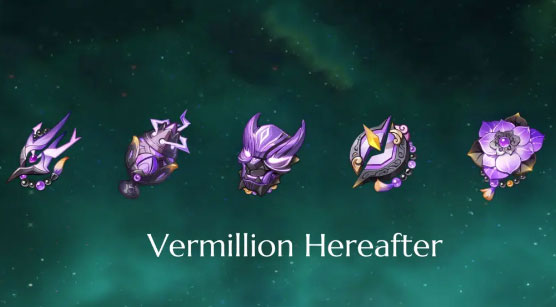 The Vermillion Hereafter is a 5-star artifact set in Genshin Impact, and let me tell you, it's one-of-a-kind.
It's all about beefing up your character's ATK and Elemental Burst DMG. This set goes like a dream on characters that gamble their HP while throwing down skills like Elemental Burst or Elemental Skill.
Read More : Pros and Cons of Genshin Impact Private Servers
Bragging Rights with the Vermillion Hereafter Artifact Set
Bagging both these artifact sets gets you a sweet ATK stat boost of +18%. These sets are like siblings to the Echoes of an Offering set from the same domain, serving unique bonuses.
But to really milk those bonuses, you've gotta have the inside scoop on how to maximize these 4 artifact sets. Simply put, these artifacts juice up your character's ATK when they unleash their Elemental Burst or their HP takes a nosedive.
After popping your Elemental Burst, your character lands a mechanical boon called Nascent Light.
This light show cranks up your ATK stat by 8% for 16 seconds. And when your character's HP dives, their ATK gets another 10% of their total ATK.
This Nascent Light bonanza can happen up to 4 times max, firing once every 0.8 seconds. But the light dims when your character switches out or leaves the scene.
If you're-saddle up and drop another Elemental Burst during Nascent Light's watch, it's a reset – the original Nascent Light effect bids farewell.
Character Made for the Vermillion Hereafter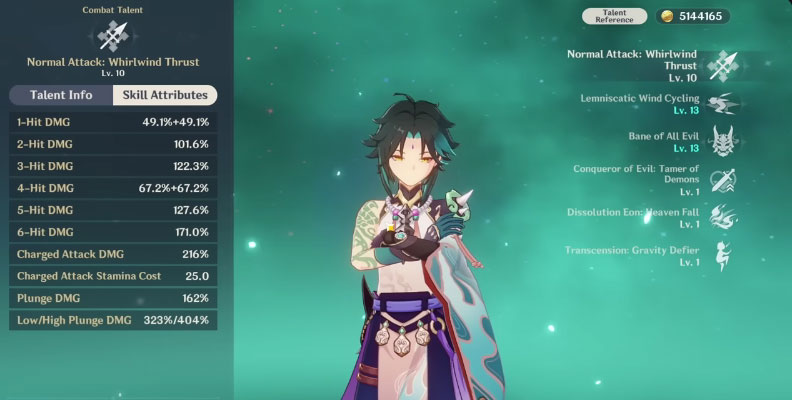 Based on what you're getting with the Vermillion Hereafter artifacts, you can cherry-pick the hero that's just right for this set.
These artifacts shine brightest for heroes who are all about their Normal Attacks after an Elemental Burst.
Read More : Discover Pantalone: Genshin Impact's Mysterious 9th Harbinger
As of now, only Xiao fully embraces these artifacts. His Elemental Burst, Conqueror of Evil: Tamer of Demons, boosts ATK while draining his HP.
So, he gets double the ATK boost from that sweet Nascent Light effect.
These 4 sets of Vermillion Hereafter could be the next big thing for other Genshin Impact heroes. But alas, only Xiao is turning heads in a full Vermillion Hereafter set.
But hey, Hu Tao and Shinobu Cookies are in the club, too, sacrificing HP when they flex their talents. They're close cousins to Xiao in that respect.
But dropping this full 4-set on Hu Tao or Shinobu? Not the author's cup of tea. The mechanics differ when it comes to HP-spending skills.
Hu Tao gets extra HP or HP recovery post-Elemental Burst. But that doesn't mean other heroes can't dabble with these artifacts.
Vermillion Hereafter is a match made in heaven for those 2 sets, boosting that ATK like Gladiator Finale, Echoes of an Offering, and Shimenawa's Reminiscence.
So, other characters like Hu Tao, Kaeya, or Kamisato Ayato could also rock these 2 Vermillion Hereafter sets.
Stay updated on gaming, tech, and gadgets with UniPin's Blog! And for a top up Genshin Impact that's easy, quick, reliable, and doesn't break the bank, head over to UniPin!