Chrono Free Fire is a formidable figure who has sparked debate. Chrono Free Fire was launched in December 2020 and dominated the meta for the entire year of 2021.
Despite being nerfed multiple times, Chrono continues to dominate and becomes a preferred character for those trying to get Booyah.
Chrono Free Fire was inspired by Cristiano Ronaldo, a well-known Portuguese footballer. Chrono was beaten at the end of 2021 following his third nerf. The number of people who use it and its popularity is declining.
Aside from that, if you still want to know this character's abilities, here's a detailed guide to Chrono Free Fire that you must know to be GG in the fight arena.
Chrono is a bounty hunter from a parallel planet, according to the description. His presence on Earth demonstrates that the universe from which Chrono originated already has advanced technology. The futuristic look further establishes his status as a dimension traveler.
Since its appearance in Free Fire, Chrono Free Fire character has gotten a lot of attention. Chrono was born into Free Fire with extremely powerful talents.
Therefore, many players favor him. Along with Chrono's presence, the amount of use of these characters has increased, which is rather distressing for players who are dealing with these people.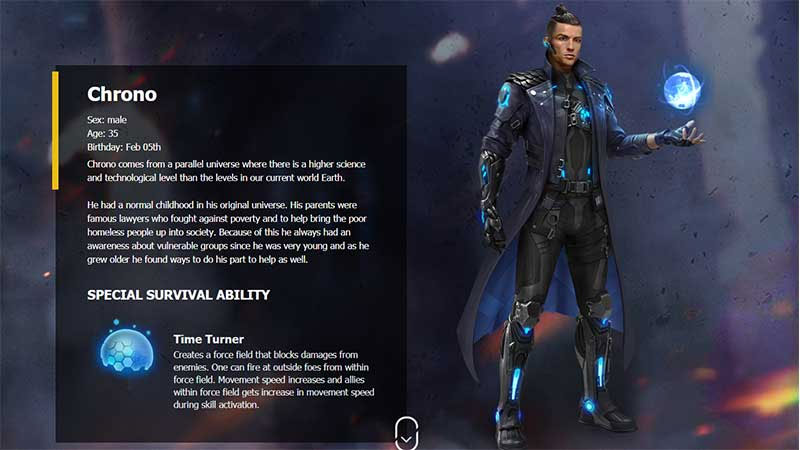 Chrono, being the finest predator in Free Fire, has a feared ability in battle, and many players select him to play aggressively. Garena has previously implemented multiple nerfs due to his strength.
This character, however, can still survive the battle. When we dig further, we discover that Chrono is not the greatest character to win the game. Chrono, although powerful and popular, is not the ideal character option in Free Fire for a variety of reasons.
Before you choose Chrono as your character, you need to know all of its strengths and weaknesses. So, as not to make a mistake, let's look at the explanation of the strengths and weaknesses of the Chrono character in Free Fire.
Chrono's Ability
Chrono's ability or skill is called Time Turner, and it has the following effects: For 4/5/6 seconds, it creates a defensive circle that can resist 800 damage from the outside.
The Cooldown for the Time-Turner skill is 180 seconds at level one, 164 seconds at level two, 150 seconds at level three, 138 seconds at level four, 128 seconds at level five, and 120 seconds at level six.
Of course, teammates in this area are affected by Chrono's skill as well. And what agitates the opponent is that the effect of the Time Turner Skill grows greater with each level increment. Surprisingly, this skill has made Chrono master the Free Fire meta for a year.
Chrono has been outfitted with powerful abilities since its introduction. Because Time Turner's Shield can absorb up to 600 points of damage from the opponent. This durability is extremely high because it is equal to three times the player's maximum HP.
Time Turner may also shield players from shots from various angles. Unlike Gloo Wall, which only shields from one direction. Isn't his ability already troublesome from where he is?
The fact that players could still shoot at opponents from inside the shield made Chrono a 'worth cheat.' As a result, the opponent became the butt of the carnage, unable to defend himself.
This is why Chrono has been nerfed multiple times. Starting with slower mobility and adding cooldown, the duration of skill activation is also lowered. But that won't halt Chrono's actions.
Garena eventually decided to remove the ability to shoot from within the Shield! As a result, the durability of the Shield is improved by up to 800 points. Chrono has since left the Free Fire meta and reformed into a regular character.

Chrono's Weaknesses After Nerfed
Very Long Cooldown
Chrono's ability has a lengthy cooldown time. Even if the skill is at its highest level, there is a 220-second cooldown after using it. When compared to famous characters such as Dimitri, DJ Alok, and Skyler, all three have a cooldown duration of fewer than 60 seconds.
As a result, after using his ability, Chrono was rendered defenseless for more than three minutes. You, like every other character, must rely on the Gloo wall to defend yourself.
Natural Enemy for Xayne
The force field can be rendered ineffective by Xayne's 'Xtreme Encounter.' Chrono is the perfect counter for Xayne. Xayne may utilize the 'Xtreme Encounter' ability to do more damage on Gloo walls and shields.
Chrono's ability is rendered utterly worthless by this skill. Because Xayne can break the shield in seconds, he can easily defeat his opponent.
Enemies Can Enter the Shield
Aside from Xayne's character, other characters may easily defeat Chrono's shield simply by entering it. Other players can freely enter and depart while Chrono's shield/dome stops incoming gunfire. When the opponent is within the shield vault, a properly fired bullet or grenade can rapidly remove Chrono.
After we acknowledged the abilities and the weaknesses of Chrono, I hope all fellow Free Fire players can maximize your game when using Chrono, which has been nerfed by Garena several times.
Get to know more about your favorite game updates on UniPin Blog.