Scrolling down lists on the Play Store to find the best Android games to play can be a bit tough sometimes. From adventure to arcade, the games category even comes with many options to pick from.
What about the list of the game itself? Well, you might need some time to reach the bottom. Not to mention all the confusions you might feel when it comes to choosing the right Android game for your needs.
To simplify your job and narrow down your options, this page will show you the top 7 games you can play on Android.
#1. Call of Duty: Mobile
The popularity of Call of Duty: Mobile as one of the best free-to-play shooters on the Play Store reaches a new level once Fortnite is no longer available on the app. This Android game comes with some new features.
It even has classic maps for gamers who feel nostalgic. Not only that but there is also a battle royale that simply mimics the gameplay you can find in another battle royale.
#2. Minecraft
For keen gamers, Minecraft is another must-have Android game on the list. This popular game allows you to build like lego simply by using a free-play mode. As an alternative, you can grind your days away by jumping into survival mode.
In Minecraft, multiplayer content is a big part of the game. Visiting the store, you will find that it comes with all kinds of content available for you to purchase. Interestingly, the main gameplay loop of this lego-like game loop is still consistent.
#3. Castlevania: Symphony of the Night
Finally, this iconic game has found its place on Android. Castlevania is absolutely fun to play. To win the game, you need to take control of the vampire Alucard who schemes to resurrect Dracula. Make sure that you sly the demonic hordes that terrorize the castle to fail their mission.
Symphony of the Night series of Castlevania comes with an expansive RPG for more fun gameplay. Additionally, the game also has an inventory system full of unusual items, gear, and spells.
There will be a huge castle that gamers can explore. Not to mention an encyclopedic list of monstrous punching bags that you can beat, making the game more fun to play.
#4. Gwent: The Witcher Arcade Game
This series of Gwent is one of the best Android games you can play on Android. Generally speaking, Gwent is a rebalanced iteration of the popular multiplayer card game, the Witcher 3: Wild Hunt.
Playing the Witcher Arcade Game, you will find out that it needs you to have a clever strategy for deck building. For this purpose, the game will provide you with a wide option of combat and support units.
There will be cards divided into factions in the Witcher Arcade Game. This allows the cards to have individual perks that can easily synergize with the abilities of their factions. As a result, the way you approach a match can be changed radically.
Though you can play the game for free, you can also purchase card kegs to get new units. As an alternative, you can complete objectives to earn special currency to buy new cards.
#5. Among Us
Ever since "Among Us" launched in 2018, the game has dominated the game industry, and now you can play it on Android. Here, you will fix a spaceship along with your astronaut friends. To make it more thrilling, there will be a fellow astronaut that quietly tries to sabotage work and manage to kill you all.
Your job is to fix the spaceship while finding the saboteur. To complete the mission, you can choose to flush out the truth by using old-fashioned social manipulation. Alternatively, you can hide your head in the sand while trusting no one or nothing in the spaceship.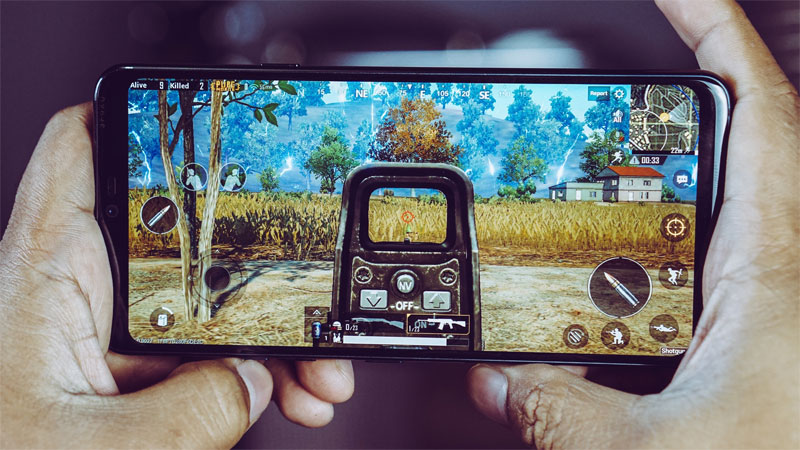 #6. Genshin Impact
Playing Genshin Impact, you will be brought to a mysterious centuries-old realm led by ancient gods. However, as the player of the game, your character will know nothing about the fact. Here, you will need to fight monsters across the world in a dangerous journey to find your siblings.
Genshin Impact will remind you of Zelda. It is an open-world environment full of things to do. You will also find constant new events that will make you busy along the game. What makes it more fun to play is that Genshin Impact also features high-quality cinematics. The soundtrack is also spectacular while the voice work is solid.
#7. Dragalia Lost
Dragalia Lost is on the list of the best Android games for some good reasons. It can be easily found on Google Play for free. The game will also provide you with a wide array of dungeon-crawling experiences due to the great features added. These include excellent music, ever-expanding story content, and intuitive controls.
On top of that, Dragalia Lost also comes with a huge amount of content. Here, you will enjoy battle royale PvP, co-op, beat-em-up action, and gauntlet-style multiplayer. Dubbed as a gacha-style game, Dragalia Lost is created to encourage gamers to purchase new item units. However, it also offers generous free rolls, much for your pleasure.
Get to know more about your favorite game updates on UniPin Blog.