Free Fire enthusiasts can't get enough of the iconic Katana, a legendary melee weapon that has become a fan favorite. Garena, in their relentless pursuit of excellence, has unleashed a plethora of mesmerizing Katana skins that players have eagerly embraced.
UniPin will unveil the most captivating Free Fire Katana skins in this riveting discussion. Are you curious to explore the world of Katana skins? Then dive right into this article and stay with us until the end to discover the most exquisite ones!
Best Katana in Free Fire
Perhaps, in the future, you'll be eagerly anticipating the return of the Katana in Free Fire, hoping to add it to your collection once it's reintroduced.
The current iteration of the Katana boasts unique designs and functionalities, enhancing your competitive edge when you wield it. To maximize its potential, mastering the correct utilization of Gloo Wall in Free Fire is essential.
By acquiring these skills now, you'll be well-prepared for any challenges in the upcoming update. Enjoy the excitement of trying it out again in the next release!
1. Chrono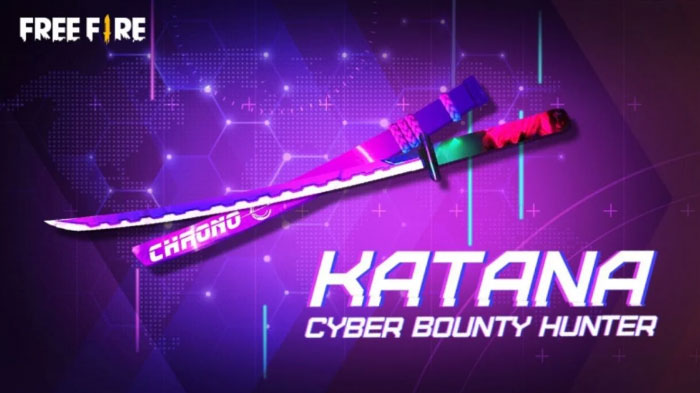 The electrifying Crono Free Fire katana skin is breaking into the spotlight as our top pick, making its dazzling debut in December 2020 alongside the spectacular Operation Chrono event. This extraordinary Katana boasts a mesmerizing shade of regal purple adorned with enigmatic chrono inscriptions, truly setting it apart from the rest!
2. Swordsman Legend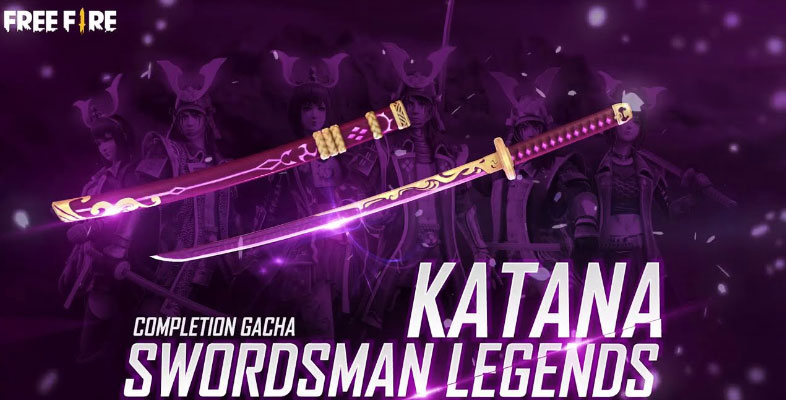 Introducing the captivating "Katana Swordsman Legends" skin, a must-have for all Katana enthusiasts. This remarkable skin boasts an exquisite combination of deep purple and shimmering gold, ensuring it stands out in style. If you're a fan of Katana weapons, this chic and opulent skin is essential for your collection.
3. Cobra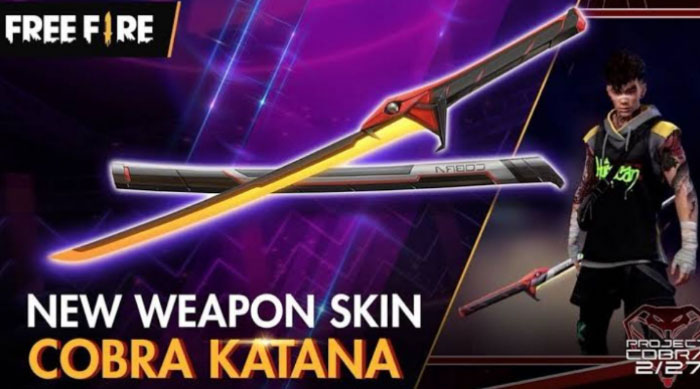 Introducing the sensational FF katana skin, a truly one-of-a-kind addition to your collection. This extraordinary Katana made its debut in the electrifying Cobra Free Fire event. What sets it apart is its ability to portray the lethal prowess of a striking Cobra vividly. The blade boasts a captivating yellow hue, while the handle exudes a mysterious black charm.
4. Clandestine Impuls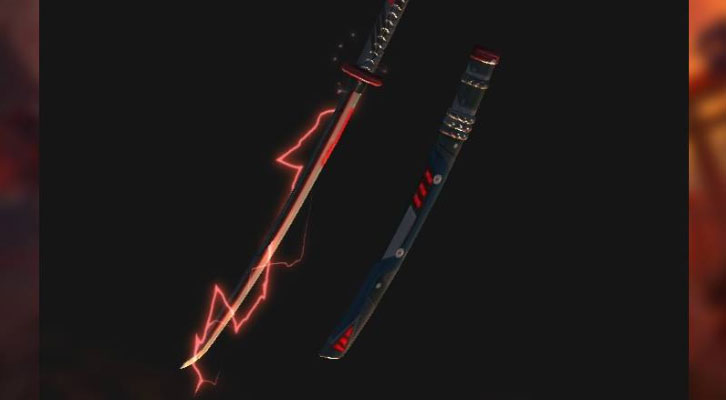 In the fourth lineup, we've got a real gem – the FF Katana skin known as "Katana Clandestine Impuls." This katana skin is a part of the exclusive premium collection, making it a sought-after rarity. You can only use it during the Season 20 Pre-Order event. Its electrifying feature sets this skin apart and makes it truly captivating, as it can produce a mesmerizing red electrical effect.
5. Kondoka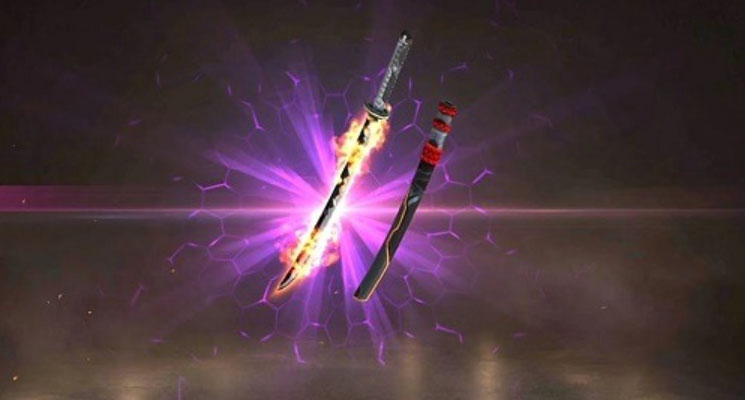 Introducing the extraordinary Katana Kondoka, the fifth mesmerizing skin in our collection. You'll need to complete Top Up Diamond to obtain this remarkable katana skin. We were wondering why you need this skin in your weapons. Well, let me tell you! Katana Kondoka boasts a scorching fire effect and captivating patterns adorning the entire blade, making it an absolute must-have for any discerning warrior.
6. Spirited Overseas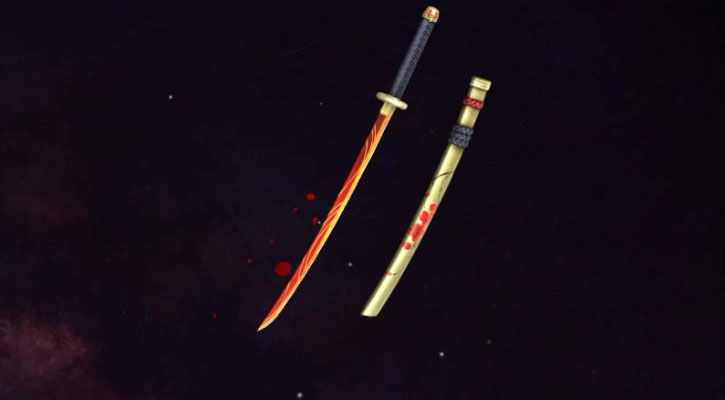 Furthermore, let's talk about the stunning aesthetics of the Katana FF skin known as "Katana Spirited Overseas." This particular skin boasts a captivating blend of radiant yellows and lustrous gold, leaving anyone who lays eyes on it irresistibly drawn to make it their own.
7. Blood Moon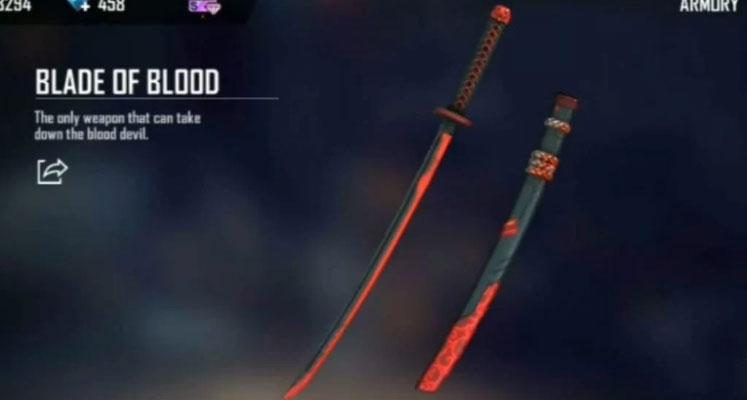 Coming in at the seventh spot, we have the Katana Blood Mon skin. This katana skin doesn't hold back in the coolness department, boasting a captivating blend of colors and patterns that are undeniably attractive. Unsurprisingly, players are still keeping a keen eye on this stylish skin.
8. Faithful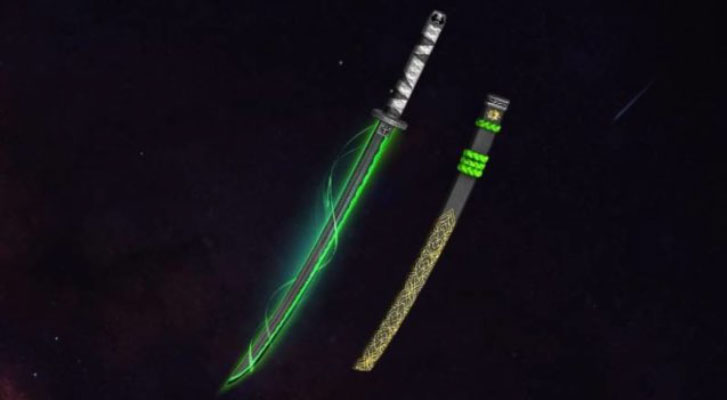 Recently unveiled, Faithful has quickly become a beloved choice among katana enthusiasts. Undoubtedly, wielding a katana of this caliber adds an element of intrigue to your gameplay.
The formidable might imbued within this Katana ensures that victory remains well within your grasp, providing a harsh edge that's difficult to overcome. Utilize this exquisite Katana to its fullest potential in close-quarter battles, as it boasts a captivating and lethal emerald aura effect that sets it apart from the rest.
9. Season Of Love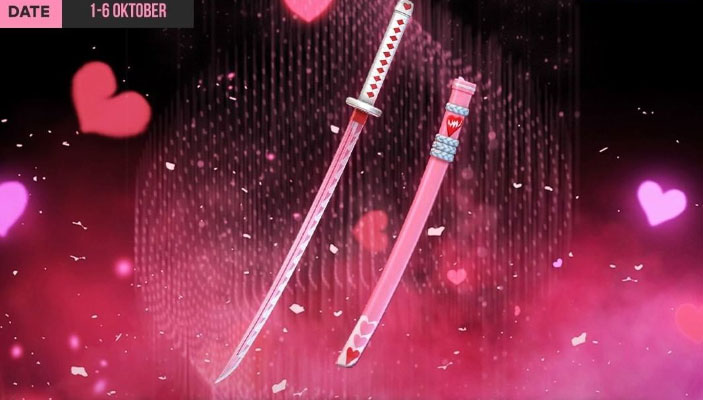 Love's irresistible force knows no bounds, even finding its place within the Katana known as the "Season of Love." When wielding this extraordinary Katana, your capabilities are imbued with newfound strength, fueled by the fiery essence of love.
But remember, wield it not as a weapon of destruction but as a guardian's shield. Spare the innocent and protect the vulnerable. Should a challenger emerge, we must engage in combat, utilizing the Love Katana as our emblem of defiance.
10. Tranquil Torrent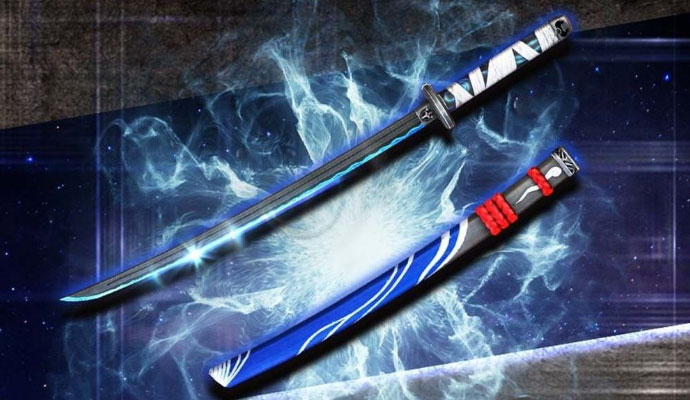 From its inception to today, we are continuing with the Katana, a genuinely remarkable possession for our character in the Free Fire game.
This Katana holds a unique place in Hayato Awakening's arsenal, as it melds the powers of his skill with the blade into an enigmatic force. Remarkably, rather than employing it for nefarious purposes, Hayato wields this potent combination to preserve peace and protect others.
Those are some things about Katana Skins in Free Fire that you should know more about. Hopefully, this article can be a reference for you to get the most out of playing Free Fire. You can top up Free Fire on UniPin now!